Matteau's Three Points Lead Maine Past Boston University, 4-2
Junior defenseman Alyson Matteau has two goals and assist for Black Bears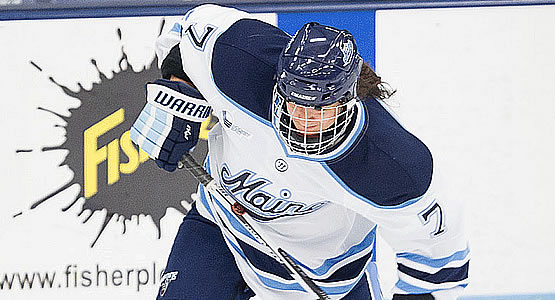 Junior defenseman Alyson Matteau had two goals and an assist for the Black Bears
| | | | | | | |
| --- | --- | --- | --- | --- | --- | --- |
| Prd | Time | Team | Score | Type | Scored By | Assists |
| 1st | 13:49 | MNE | 1-0 | EV | Alyson Matteau (1) | Anna Zíková/1 |
| 1st | 14:38 | MNE | 2-0 | EV | Vendula Přibylová (2) | Michelle Weis/5 |
| 2nd | 7:35 | MNE | 3-0 | EV GW | Jessica Jacques (3) | Alyson Matteau/3, Lydia Murray/1 |
| 2nd | 11:28 | BU | 1-3 | EV | Nara Elia (2) | Kristina Schuler/2 |
| 3rd | 7:18 | BU | 2-3 | EV | Victoria Bach (2) | - |
| 3rd | 19:32 | MNE | 4-2 | EV EN | Alyson Matteau (2) | Vendula Přibylová/1 |
| | | | | |
| --- | --- | --- | --- | --- |
| Scoring | 1st | 2nd | 3rd | Final |
| Boston University | 0 | 1 | 1 | 2 |
| Maine | 2 | 1 | 1 | 4 |
| | | | | |
| --- | --- | --- | --- | --- |
| Shots on Goal | 1st | 2nd | 3rd | SOG |
| Boston University | 5 | 8 | 6 | 19 |
| Maine | 10 | 15 | 10 | 35 |
| | | | |
| --- | --- | --- | --- |
| Team Stats and Records | PP | PIM | SHGF |
| Boston University (0-4-0) | 0/2 | 1/2 | 0 |
| Maine (5-2-0) | 0/1 | 2/4 | 0 |
| | | | | | | |
| --- | --- | --- | --- | --- | --- | --- |
| Boston University Goaltending | MIN | GA | 1 | 2 | 3 | Saves |
| Erin O'Neil (L, 0-4-0) | 59:51 | 3 | 8 | 14 | 9 | 31 |
| Empty Net | 0:09 | 1 | | | | |
| | | | | | | |
| --- | --- | --- | --- | --- | --- | --- |
| Maine Goaltending | MIN | GA | 1 | 2 | 3 | Saves |
| Carly Jackson (W, 4-2-0) | 60:00 | 2 | 5 | 7 | 5 | 17 |
ORONO, Maine - Maine women's ice hockey broke away with an early 3-0 lead to set the tone of the match on Friday afternoon, before overcoming Boston University (BU), 4-2, in the Black Bears first Hockey East Conference match-up of the season.
Alyson Matteau was a force to be reckoned with on the ice today, putting away two goals and one assist. She opened up scoring for Maine just 6:11 into the game off a breakaway from her defensive end, skating past everyone to net her first goal of the year. Anna Zikova grabbed her first assist of the season off the play.
Less than a minute later, Michelle Weis stole the puck near center ice for Vendula Pribylova to slip through the bustle and deke out the lone defender guarding the Terrier's net to finish the puck right between Erin O'Neil's legs.
Registering the third unanswered goal for Maine was Jessica Jacques, tipping the puck into the net off a slap shot by Matteau, just over halfway through the second period. Lydia Murray started off the play for her first assist of the season.
The Terriers retaliated with 8:32 remaining in the second period after Kristina Schuler won a faceoff in Black Bear territory, quickly passing off the puck to Nara Elia who skated over to the top of the circle and ripped one into the back of the net.
Victoria Bach made it a one-goal game with 12:42 to go, snatching up the loose puck and sneaking past Maine defenders to tuck in a backhander, making the score 3-2.
With less than one minute remaining in regulation, the Terrier's pulled their goalie leaving an empty net open for Matteau to send a deep puck right over the goal line, capturing the 4-2 victory for the Black Bears.
O'Neil stopped 31 shots for BU while Jackson registered 17 saves on the other end of the rink for Maine. With this victory, Jackson improves her season record to 4-2-0, earning her first conference win of the year.
Brooke Stacey was unstoppable in faceoff wins, seizing 11-of-14 in the final period for the Black Bears.
The Black Bears will have a week to rest up before a busy weekend on the road, trekking to the University of New Hampshire on Saturday, October 28th, followed by a match down at Boston College the next day. Puck is set to drop at 2 p.m. both days.