Boston University Scores Final Four Goals To Topple UConn, 6-2
Senior forward Rebecca Leslie records three goals and assist for Terriers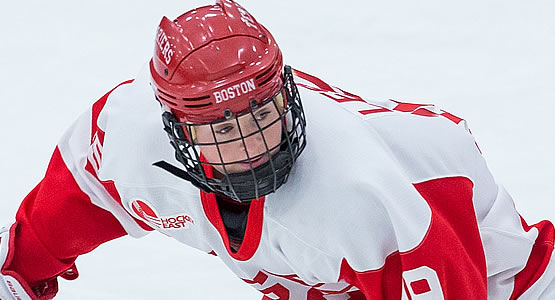 Senior forward Rebecca Leslie had three goals and an assist for the Terriers
| | | | | | | |
| --- | --- | --- | --- | --- | --- | --- |
| Prd | Time | Team | Score | Type | Scored By | Assists |
| 1st | 6:50 | CON | 1-0 | EV | Catherine Crawley (3) | Rebecca Lindblad/4, Carley Olivier/2 |
| 1st | 10:14 | BU | 1-1 | PP | Nara Elia (3) | Victoria Bach/2, Corinne Schroeder/1 |
| 1st | 11:32 | BU | 2-1 | SH | Victoria Bach (3) | Rebecca Leslie/1, Reagan Rust/2 |
| 2nd | 6:59 | CON | 2-2 | PP | Leah Lum (4) | Briana Colangelo/4, Morgan Wabick/3 |
| 2nd | 8:40 | BU | 3-2 | PP GW | Rebecca Leslie (1) | Nina Rodgers/2, Jesse Compher/2 |
| 3rd | 0:36 | BU | 4-2 | EV | Rebecca Leslie (2) | Savannah Newton/2, Victoria Bach/3 |
| 3rd | 4:47 | BU | 5-2 | EV | Nina Rodgers (1) | Natasza Tarnowski/2 |
| 3rd | 17:29 | BU | 6-2 | PP | Rebecca Leslie (3) | Victoria Bach/4, Abby Cook/2 |
| | | | | |
| --- | --- | --- | --- | --- |
| Scoring | 1st | 2nd | 3rd | Final |
| UConn | 1 | 1 | 0 | 2 |
| Boston University | 2 | 1 | 3 | 6 |
| | | | | |
| --- | --- | --- | --- | --- |
| Shots on Goal | 1st | 2nd | 3rd | SOG |
| UConn | 13 | 11 | 4 | 28 |
| Boston University | 11 | 16 | 15 | 42 |
| | | | |
| --- | --- | --- | --- |
| Team Stats and Records | PP | PIM | SHGF |
| UConn (3-3-1) | 1/6 | 5/10 | 0 |
| Boston University (1-4-0) | 3/5 | 6/12 | 1 |
| | | | | | | |
| --- | --- | --- | --- | --- | --- | --- |
| UConn Goaltending | MIN | GA | 1 | 2 | 3 | Saves |
| Annie Belanger (L, 2-2-1) | 60:00 | 6 | 9 | 15 | 12 | 36 |
| | | | | | | |
| --- | --- | --- | --- | --- | --- | --- |
| Boston University Goaltending | MIN | GA | 1 | 2 | 3 | Saves |
| Corinne Schroeder (W, 1-0-0) | 60:00 | 2 | 12 | 10 | 4 | 26 |
BOSTON - Senior Rebecca Leslie notched her second career hat trick as part of a four-point afternoon to help lead the Boston University women's ice hockey team to a 6-2 win over UConn on Sunday afternoon at Walter Brown Arena.
GOAL-BY-GOAL
- UConn took a 1-0 lead just 6:50 into the proceedings thanks to a Catherine Crawley goal.
- Freshman Nara Elia tied the game with a power-play goal at the 10:14 mark of the frame. After UConn cleared the puck, senior Victoria Bach retrieved it from behind her own net. She raced up the length of the ice and wrapped around the Huskies' cage, but Annie Belanger (36 saves) denied her attempt. The rebound popped out to Elia, however, and the freshman cashed in for her third goal of the season.
- Bach gave BU a 2-1 lead just 1:18 later with a shorthanded strike. Junior Reagan Rust won a battle along the half-wall of her own zone and pushed the puck to Bach, who then quickly gave it to Leslie and created a 2-on-1 rush. Leslie's patience with the puck paid off, as she committed the lone defender in addition to Belanger before sliding a pass to Bach, who converted into the open net for her third goal of the campaign.
- UConn equalized with a power-play goal at the 6:59 mark of the second stanza, but the Terriers answered with another power-play marker of their own less than two minutes later. Freshman Jesse Compher and senior Nina Rodgers both tried to stuff the puck past Belanger, but the senior denied them. Rodgers then flipped the puck across the crease, where it then bounced off Leslie and into the open net. Upon video review, Leslie's first goal of the season was upheld.
- Leslie scored just 36 seconds into the final frame to give BU a 4-2 lead.
- Rodgers notched her first goal of the season at the 4:47 mark of the frame thanks to a rocket of a shot after receiving a pass from freshman Natasza Tarnowski.
- Leslie completed her hat trick with 2:31 remaining in regulation when she deposited a nifty feed from Bach.
LESLIE LIGHTS UP THE SCORE SHEET
- Leslie's hat trick was the second of her collegiate career. She also scored three goals on Nov. 18, 2016 at Merrimack.
- Her four points today were her first four of the season.
- That aforementioned game at Merrimack was also Leslie's last four-point effort.
BACH MATCHES A COUPLE OF CAREER HIGHS
- Bach's three assists and four points both matched single-game highs.
- She previously notched four points against Ohio State on Nov. 29, 2015.
- This was Bach's third three-assist effort of her career, with the last such game coming against Providence on Jan. 22, 2017. - She has secured a point in four of the Terriers' five games this season.
SCHROEDER STELLAR IN HER DEBUT
- Freshman goaltender Corinne Schroeder was outstanding for the Terriers in her collegiate debut.
- She made 26 saves and allowed just one even-strength goal.
- Schroeder also assisted on Elia's first-period marker.
- She became the first Terrier netminder to win her first collegiate start since Braly Hiller on Oct. 15, 2011.
NARA NOT TO BE STOPPED
- Elia has been outstanding in her first season, having now lit the lamp in three of her first five games.
- Sunday marked her second consecutive contest with a goal.
ONE TEAM HAS ALL THAT POWER
- BU went 3-for-5 on the power play today to improve its percentage to 37.5%.
- That success rate ranks first in the NCAA.
SECOND HELPERS
- Ten different Terriers recorded at least one point.
- Compher, Rust, Tarnowski, sophomore Abby Cook and senior Savannah Newton each added their second assists of the season on Sunday.
RIVALRY RENEWED NEXT WEEKEND
- The Terriers will remain at Walter Brown Arena next weekend when they host No. 3 Boston College on Saturday, Oct. 28.
- Puck drop is set for 3 p.m.