Tuesday, November 28, 2017
Another Big Game From Bach Lifts Boston University To 6-4 Win Over Brown
Senior forward Victoria Bach notches second five-point game of season for Terriers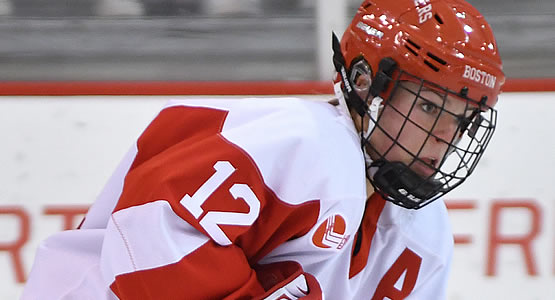 Senior forward Victoria Bach had two goals and three assists for the Terriers
| | | | | | | |
| --- | --- | --- | --- | --- | --- | --- |
| Prd | Time | Team | Score | Type | Scored By | Assists |
| 1st | 3:50 | BU | 1-0 | EV | Victoria Bach (16) | Rebecca Leslie/14 |
| 2nd | 2:17 | BU | 2-0 | PP | Jesse Compher (1) | Abby Cook/8, Victoria Bach/12 |
| 2nd | 2:59 | BRN | 1-2 | PP | Sena Hanson (4) | Cara Najjar/6, Samantha Swanstrom/5 |
| 2nd | 8:39 | BRN | 2-2 | PP | Cynthia Kyin (1) | Veronica Alois/3, Alley Rempe/4 |
| 2nd | 11:37 | BU | 3-2 | EV | Rebecca Leslie (11) | Abby Cook/9 |
| 3rd | 4:45 | BRN | 3-3 | EV | Veronica Alois (3) | Abby Nearis/2, Cara Najjar/7 |
| 3rd | 5:37 | BRN | 4-3 | EV | Sena Hanson (5) | Sam Donovan/6 |
| 3rd | 8:57 | BU | 4-4 | PP | Jesse Compher (2) | Abby Cook/10, Victoria Bach/13 |
| 3rd | 13:29 | BU | 5-4 | PP GW | Victoria Bach (17) | Abby Cook/11, Rebecca Leslie/15 |
| 3rd | 15:30 | BU | 6-4 | EV | Rebecca Leslie (12) | Victoria Bach/14 |
| | | | | |
| --- | --- | --- | --- | --- |
| Scoring | 1st | 2nd | 3rd | Final |
| Brown | 0 | 2 | 2 | 4 |
| Boston University | 1 | 2 | 3 | 6 |
| | | | | |
| --- | --- | --- | --- | --- |
| Shots on Goal | 1st | 2nd | 3rd | SOG |
| Brown | 2 | 10 | 9 | 21 |
| Boston University | 19 | 14 | 18 | 51 |
| | | | |
| --- | --- | --- | --- |
| Team Stats and Records | PP | PIM | SHGF |
| Brown (1-10-0) | 2/3 | 7/14 | 0 |
| Boston University (6-7-2) | 3/7 | 3/6 | 0 |
| | | | | | | |
| --- | --- | --- | --- | --- | --- | --- |
| Brown Goaltending | MIN | GA | 1 | 2 | 3 | Saves |
| Calla Isaac (L, 1-5-0) | 60:00 | 6 | 18 | 12 | 15 | 45 |
| | | | | | | |
| --- | --- | --- | --- | --- | --- | --- |
| Boston University Goaltending | MIN | GA | 1 | 2 | 3 | Saves |
| Corinne Schroeder (W, 6-2-2) | 59:51 | 4 | 2 | 8 | 7 | 17 |
| Empty Net | 0:09 | 0 | | | | |
BOSTON - Senior Victoria Bach recorded five points and freshman Jesse Compher collected her first two collegiate goals to help lead the Boston University women's ice hockey team to a 6-4 win over Brown on Tuesday night at Walter Brown Arena.
HOW IT HAPPENED
- Bach made it 1-0 just 3:50 into the proceedings. The play began when Bach backchecked and picked a Brown attacker's pocket in the BU zone. She then skated into the neutral zone and fed Leslie before jetting for the net. Leslie hit Bach with a pass and Bach knocked the puck past Calla Isaac (45 saves).
- Compher's first collegiate goal made it 2-0 just 2:17 into the second stanza when she redirected sophomore Abby Cook's shot past Isaac on a power play.
- Brown got two power-play goals past freshman Corinne Schroeder (17 saves) to even the score at the 8:39 mark of the middle frame, but BU answered when Leslie notched her first goal of the game just as a BU power-play chance expired with 8:23 remaining in the second period.
- Brown scored the first two goals of the final frame to take a 4-3 lead just 5:37 into the period.
- Head coach Brian Durocher used his timeout following the fourth Brown goal and the Terriers regrouped and eventually tid the game at the 8:57 mark. Compher once again redirected a Cook shot for her second power-play goal of the contest.
- Bach then won the game with another Terrier power-play strike at the 13:29 mark of the frame. Cook found Bach at the post with a rocket pass, and the senior made no mistake for her 17th goal of the campaign.
- Leslie added an insurance goal with 4:30 remaining in regulation when she combined with Bach for her 12th goal of the season.
FIVE MORE POINTS FOR BACH
- Bach recorded her second five-point game of the season on Tuesday thanks to two goals and by matching her career high of three assists.
- She also tallied five points at Vermont on Nov. 17.
- Bach has scored an NCAA-best 12 goals over her last five games and has an NCAA-best 17 points since Nov. 17.
- Her 17 total goals is one behind the national leader.
COOKIN' UP SOME GOALS
- Cook recorded a career-best four assists on Tuesday, one shy of Rebecca Russo's program-record five helpers.
- Alexis Crossley was the last Terrier to record four assists in a game, doing so on Jan. 21, 2017 at Providence.
- Cook has now matched her assist total from all of last season, as her final assist of Tuesday's game was her 11th of the season.
LESLIE KEEPS LIGHTING UP THE SCORESHEET
- Leslie extended her point streak to six games (6g, 10a) with her four-point night.
- Since Nov. 17, Leslie leads the country with 10 assists.
- She has tallied 12 goals and 15 assists for 27 total points this year.
COMPHER'S CAREER NIGHT
- Compher became the third Terrier freshman to record a goal this season.
- She matched her career high of two points as well.
- Tuesday was Compher's third multi-point game in her last six contests.
- She enters the weekend with 11 points on two goals and nine assists.
NEXT UP: THE BATTLE OF COMM. AVE.
- The Terriers will face rival and second-ranked Boston College this weekend in a home-and-home series.
- Friday's game in Chestnut Hill is scheduled for 2 p.m., before the teams skate at Walter Brown on Saturday at 3 p.m.