Watts Hat Trick Leads Boston College Past Minnesota Duluth, 4-1
Freshman forward Daryl Watts scores first three collegiate goals for Eagles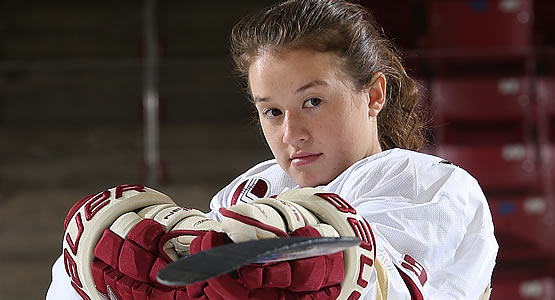 Freshman forward Daryl Watts scored a hat trick for the Eagles
| | | | | | | |
| --- | --- | --- | --- | --- | --- | --- |
| Prd | Time | Team | Score | Type | Scored By | Assists |
| 1st | 7:47 | BC | 1-0 | EV | Kenzie Kent (1) | Kathleen McNamara/1, Makenna Newkirk/3 |
| 1st | 11:39 | MND | 1-1 | PP | Ashton Bell (2) | Ryleigh Houston/3, Catherine Daoust/1 |
| 1st | 18:28 | BC | 2-1 | PP GW | Daryl Watts (1) | Caitrin Lonergan/1, Toni Ann Miano/3 |
| 2nd | 14:52 | BC | 3-1 | EV | Daryl Watts (2) | Caitrin Lonergan/2, Willow Corson/2 |
| 2nd | 16:56 | BC | 4-1 | EV | Daryl Watts (3) | Caitrin Lonergan/3, Toni Ann Miano/4 |
| | | | | |
| --- | --- | --- | --- | --- |
| Scoring | 1st | 2nd | 3rd | Final |
| Minnesota Duluth | 1 | 0 | 0 | 1 |
| Boston College | 2 | 2 | 0 | 4 |
| | | | | |
| --- | --- | --- | --- | --- |
| Shots on Goal | 1st | 2nd | 3rd | SOG |
| Minnesota Duluth | 6 | 11 | 15 | 32 |
| Boston College | 13 | 8 | 5 | 26 |
| | | | |
| --- | --- | --- | --- |
| Team Stats and Records | PP | PIM | SHGF |
| Minnesota Duluth (2-2-0) | 1/4 | 3/6 | 0 |
| Boston College (2-0-0) | 1/3 | 4/8 | 0 |
| | | | | | | |
| --- | --- | --- | --- | --- | --- | --- |
| Minnesota Duluth Goaltending | MIN | GA | 1 | 2 | 3 | Saves |
| Catherine Johnson (L, 0-1-0) | 60:00 | 4 | 11 | 6 | 5 | 22 |
| | | | | | | |
| --- | --- | --- | --- | --- | --- | --- |
| Boston College Goaltending | MIN | GA | 1 | 2 | 3 | Saves |
| Katie Burt (W, 2-0-0) | 60:00 | 1 | 5 | 11 | 15 | 31 |
CHESTNUT HILL, Mass. - Freshman Daryl Watts recorded her first career hat trick as the third-ranked Boston College women's hockey team completed the two-game sweep of fourth-ranked Minnesota Duluth with a 4-1 win at Kelley Rink on Friday afternoon.
Watts tallied a natural hat trick, scoring BC's second, third and fourth goals to secure the win. Her first goal of the night was her first career score.
Caitrin Lonergan matched her career-best with three assists - all primary set-ups of Watts' goals - while Toni Ann Miano added a pair for her sixth straight multiple-point game dating back to last season. Katie Burt made 31 saves - including 15 in the third period - as Boston College (2-0-0) took the second of the two-game series against Minnesota Duluth (2-2-0).
Kenzie Kent put the Eagles on the board at 7:47 of the first, but the Bulldogs' pulled even at 1-1 behind Ashton Bell's goal at 11:39. Watts' first goal - a power-play strike - at 18:28 of the first gave BC its last lead and sent the team into the intermission ahead. She then come out and struck at 14:52 and 16:65 of the second to extend the lead to 4-1, and Burt took over in the third to preserve the final score line.
The Eagles return to Kelley Rink on Tuesday, Oct. 17, when the team hosts Quinnipiac in a non-conference game. The 7 p.m. game will be streamed live on ESPN3, which is available at WatchESPN.com and on the ESPN app. Follow the #BCEagles all season at @bc_whockey on Twitter and Instagram.
No. 3 Boston College 4, No. 4 Minnesota Duluth
Friday, October 6, 2017
Kelley Rink at Conte Forum | Chestnut Hill, Mass.
1st, 7:47 | 1-0 - BC GOAL - After several players battled for the puck behind the Bulldogs' goal, Makenna Newkirk gained possession and sent it up to Kathleen McNamara at the far point. The defenseman sent a shot in, and Kenzie Kent tipped it in under UMD goaltender Catherine Johnson on the near post to give the Eagles a 1-0 lead.
1st, 11:39 | 1-1 - UMD GOAL (PPG) - With less than 20 seconds remaining on a BC penalty, Catherine Daoust dug the puck out along the halfboards near the UMD bench and played Ryleigh Houston in the faceoff circle. Houston sent short pass ahead to Ashton Bell, who skated out of the Bulldogs' zone along the boards and into the BC end. She curled inside and got off a wrist shot from the faceoff dot that found space inside the far post to even the game.
1st, 18:28 | 2-1 - BC GOAL (PPG) - On the power play, Toni Ann Miano picked up the puck behind Katie Burt's goal and played it ahead to Caitrin Lonergan at the blue line. The forward took the puck and skated past one UMD defender before gaining the Bulldogs' blue line. She skated deeper, cut inside at the circle and let off a snapshot, but it was blocked by a UMD defender. However, the rebound popped right out to Daryl Watts at the edge of the circle who whipped it by Johnson to put the Eagles ahead with her first career goal just before the intermission.
2nd, 14:52 | 3-1 - BC GOAL - Willow Corson gained possession in front of the BC bench and played it just ahead to Lonergan as she surged forward. Lonergan took space through the neutral zone and into the UMD end, picking up a defender along the boards. Watts was charging down through the high slot, and collected Lonergan's centering pass around a Bulldog and redirected it up over Johnson's shoulder for the two-goal advantage.
2nd, 16:56 | 4-1 - BC GOAL - Miano corralled the rebound of a Johnson save at the edge of the faceoff circle and dumped it back to Lonergan along the goal line. Lonergan cut across the circle and was tripped by UMD's Anna Klein. As she fell, she managed to get a pass off through the slot to Watts on the doorstep as the delayed call was coming, and Watts and hammered a shot over Johnson's shoulder - kicking down off the crossbar - for BC's fourth goal of the day and her first career hat trick.
GAME NOTES
- Tonight's win was head coach Katie Crowley's 250th career victory ... all of those wins have come at Boston College since she was elevated to head coach ahead of the 2007-08 season
- Not only did Daryl Watts score her first goal of the season in the first period, she also scored her second and third goals of the night to now lead the team in goals (3).
- Watts' hat trick was the Eagles' first freshman hat trick in a little under a year ... Belinskas netted a three-goal night against New Hampshire on Nov. 12, 2016, at Kelley Rink
- Watts picked up five points (3 goals, 2 assists) in the team's first two games of the season
- Kenzie Kent's first-period goal was her first of the season and the 32nd of career ... she now has 109 career points and sits in 14th place on the BC career scoring list, just four points back of 13th-place Mary Restuccia (113 points)
- Kathleen McNamara recorded her first career point with the primary assist on Kent's goal ... the first point came in her 26th career game
- Caitrin Lonergan had a season-high three points tonight, all coming on assists ... it was her second three-assist game of her career and first since a three-assist effort on Nov. 12, 2016
- Toni Ann Miano collected two more assists to push her season total to four in two games ... she now has 45 career assists
- This was Miano's sixth straight multiple-point game dating back to Nov. 12, 2016 ... she's collected 13 points in that span (three goals, 10 assists)
- Makenna Newkirk tallied her third assist of the season with helper on Kent's goal ... she now has 54 career assists and moved her career point total to 92 points - 21st all-time at The Heights ... Newkirk is eight points shy of becoming the 17th player in program history to record at least 100 points
- Willow Corson picked up her second assist in as many nights, collecting the secondary helper on Watts' second goal of the night
- Boston College evened its all-time record against Minnesota Duluth with tonight's win, moving to 6-6-1 since the series began in 2007 ... BC is now 5-3-0 at Kelley Rink against the Bulldogs ... the teams are schedule to meet again for a two-game series in Duluth early in 2018-19
- Katie Burt recorded her 93rd career win ... she is now five wins back of fifth place on the NCAA career victories chart (98 - Amanda Leveille, Minnesota '16)
TEAM RECORDS
Minnesota Duluth: 2-2-0
Boston College: 2-0-0
UP NEXT
Boston College has another bye in its schedule next week and returns to the ice on Tuesday, Oct. 17, when the team hosts Quinnipiac in a non-conference game at Kelley Rink. Faceoff is set for 7 p.m., and the game will be streamed live on ESPN3.