Saturday, December 3, 2016
Gorecki Sends Vermont Past Northeastern In Overtime, 2-1
Sophomore forward Alyssa Gorecki scores 1:11 into overtime for Catamounts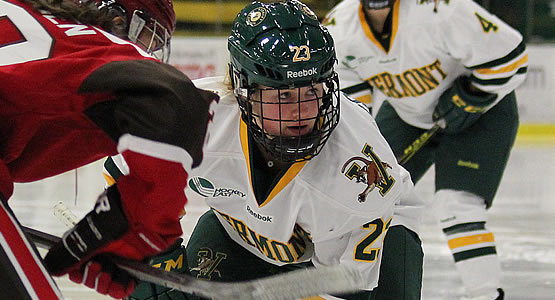 Sophomore forward Alyssa Gorecki scored 1:11 into overtime for the Catamounts
| | | | | | | |
| --- | --- | --- | --- | --- | --- | --- |
| Prd | Time | Team | Score | Type | Scored By | Assists |
| 1st | 9:48 | NOE | 1-0 | EV | Heather Mottau (6) | Paige Savage/11, Matti Hartman/6 |
| 3rd | 19:07 | VER | 1-1 | EV EA | Victoria Andreakos (4) | Daria O'Neill/6, Taylor Willard/4 |
| OT | 1:11 | VER | 2-1 | EV GW | Alyssa Gorecki (4) | Ali O'Leary/1 |
| | | | | | |
| --- | --- | --- | --- | --- | --- |
| Scoring | 1st | 2nd | 3rd | OT | Final |
| Vermont | 0 | 0 | 1 | 1 | 2 |
| Northeastern | 1 | 0 | 0 | 0 | 1 |
| | | | | | |
| --- | --- | --- | --- | --- | --- |
| Shots on Goal | 1st | 2nd | 3rd | OT | SOG |
| Vermont | 11 | 10 | 13 | 1 | 35 |
| Northeastern | 12 | 9 | 7 | 1 | 29 |
| | | | |
| --- | --- | --- | --- |
| Team Stats and Records | PP | PIM | SHGF |
| Vermont (5-6-4) | 0/6 | 4/8 | 0 |
| Northeastern (11-5-3) | 0/4 | 6/12 | 0 |
| | | | | | | | |
| --- | --- | --- | --- | --- | --- | --- | --- |
| Vermont Goaltending | MIN | GA | 1 | 2 | 3 | OT | Saves |
| Melissa Black (W, 2-3-1) | 60:23 | 1 | 11 | 9 | 7 | 1 | 28 |
| Empty Net | 0:48 | 0 | | | | | |
| | | | | | | | |
| --- | --- | --- | --- | --- | --- | --- | --- |
| Northeastern Goaltending | MIN | GA | 1 | 2 | 3 | OT | Saves |
| Brittany Bugalski (L, 11-4-3) | 61:11 | 2 | 11 | 10 | 12 | 0 | 33 |
BOSTON - Trailing 1-0 into the final minute of regulation, the visiting Vermont Catamounts (5-6-4, 3-2-3 WHEA) scored the game-tying goal with 53 seconds remaining, before scoring again 1:11 into overtime to hand the Northeastern women's hockey team (11-5-3, 7-3-2 WHEA) a tough 2-1 loss on Saturday at Matthews Arena.
Senior Heather Mottau scored her third goal in the last two games for Northeastern, while sophomore Brittany Bugalski made 33 saves.
The Catamounts held a 35-29 advantage in shots on goal and killed off all four NU power plays to snap an eight-game winless streak against the Huskies.
Goal Recaps
- The Huskies struck midway through the first period to take a 1-0 lead. On a rush up the left wing, freshman Matti Hartman threw the puck across the goal-mouth to senior Paige Savage, who furthered it along to Mottau at the right post for a shot that slipped by UVM netminder Melissa Black (28 saves) at the 9:48 mark.
- The scoreline held into the final minute of regulation when Vermont pulled Black for the extra attacker. Seconds later, Victoria Andreakos was able to shovel the puck home from the left slot after Daria O'Neill's point-shot caromed off the boards behind the net and popped out in front with 53 seconds remaining.
- Alyssa Gorecki then won it for the Catamounts 1:11 into overtime when her shot from between the circles hit the bottom of the crossbar, then went off the skate of an NU defenseman and into the net for the winner.
Noteworthy
- Northeastern lost its first OT game since Oct. 29, 2013 (vs. BU)
- The Huskies had their eight-game unbeaten streak against Vermont come to an end.
- NU lost for the first time this season when leading after two periods (8-1-0).
- The Huskies killed off all six UVM power plays.
- Senior Paige Savage notched her 98th career point with the primary assist on Mottau's goal.
- Sophomore Brittany Bugalski stopped 30+ shots for the eighth time this season.
- Sophomore Kasidy Anderson led all players with seven shots on goal.
Up Next
The Huskies will close out the first half of the season on Sunday at Matthews against Vermont at 2 p.m.