Saturday, December 10, 2016
Vermont Downs Dartmouth, 4-2
Senior defenseman Rachael Ade records goal and assist for Catamounts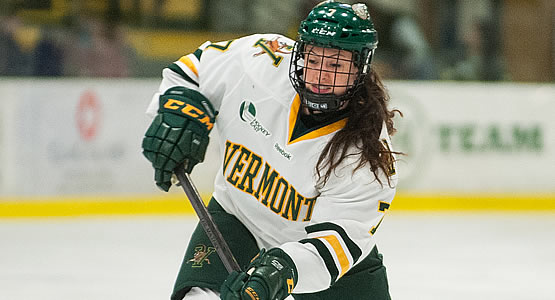 Senior defenseman Rachael Ade had a goal and an assist for the Catamounts
| | | | | | | |
| --- | --- | --- | --- | --- | --- | --- |
| Prd | Time | Team | Score | Type | Scored By | Assists |
| 1st | 2:43 | VER | 1-0 | PP | Rachael Ade (3) | Taylor Willard/5, Ève-Audrey Picard/6 |
| 1st | 4:40 | VER | 2-0 | PP | Victoria Andreakos (5) | Ève-Audrey Picard/7, Rachael Ade/3 |
| 2nd | 6:30 | VER | 3-0 | PP GW | Mackenzie MacNeil (5) | Cassidy Campeau/2, Ali O'Leary/2 |
| 2nd | 18:44 | DAR | 1-3 | EV | Kennedy Ottenbreit (3) | - |
| 3rd | 8:58 | VER | 4-1 | PP | Sammy Kolowrat (1) | Amanda Drobot/4, Ali O'Leary/3 |
| 3rd | 19:22.4 | DAR | 2-4 | EV | Kennedy Ottenbreit (4) | Caroline Shaunessy/3 |
| | | | | |
| --- | --- | --- | --- | --- |
| Scoring | 1st | 2nd | 3rd | Final |
| Dartmouth | 0 | 1 | 1 | 2 |
| Vermont | 2 | 1 | 1 | 4 |
| | | | | |
| --- | --- | --- | --- | --- |
| Shots on Goal | 1st | 2nd | 3rd | SOG |
| Dartmouth | 5 | 5 | 6 | 16 |
| Vermont | 11 | 7 | 10 | 28 |
| | | | |
| --- | --- | --- | --- |
| Team Stats and Records | PP | PIM | SHGF |
| Dartmouth (2-10-0) | 0/3 | 8/16 | 0 |
| Vermont (7-6-4) | 4/8 | 3/6 | 0 |
| | | | | | | |
| --- | --- | --- | --- | --- | --- | --- |
| Dartmouth Goaltending | MIN | GA | 1 | 2 | 3 | Saves |
| Robyn Chemago | 4:40 | 2 | 3 | 0 | 0 | 3 |
| Christie Honor (L, 0-3-0) | 55:20 | 2 | 6 | 6 | 9 | 21 |
| | | | | | | |
| --- | --- | --- | --- | --- | --- | --- |
| Vermont Goaltending | MIN | GA | 1 | 2 | 3 | Saves |
| Sydney Scobee (W, 1-1-0) | 59:46 | 2 | 5 | 4 | 5 | 14 |
| Empty Net | 0:14 | 0 | | | | |
BURLINGTON, Vt. - A 4-for-8 performance on the power play marked by a goal and assist by Rachael Ade coupled with freshman Sydney Scobee's 14 saves paced the Vermont women's hockey team past Dartmouth 4-2 on Saturday at Gutterson Fieldhouse.
Vermont closes the fall semester at 7-6-4, while the Big Green drop to 2-10-0. The result also marks the first time in program history that UVM has defeated Dartmouth within the confines of Burlington.
Scobee earned her first collegiate win, while Christie Honor made 21 saves for Dartmouth after entering in relief of Robyn Chemago (3 saves).
"I'm really happy that the kids came out, played hard and took advantage of the opportunities that we were given," said head coach Jim Plumer. "I thought we got better as the game went on and that the third period was our best period. It certainly gives us momentum going into the break."
UVM drew first blood just 2:43 into the game on a tally from Rachael Ade. Taylor Willard sent a pass to the senior along the blue line, wristing the puck from the left point into traffic. The shot took a redirection and trickled past Chemago into the net.
Just under two minutes later, the Catamounts doubled their lead after Victoria Andreakos netted her fifth goal of the season. The play began when Ève-Audrey Picard received a feed from Ade and wound up at the top of the right circle. Chemago turned aside the attempt but Andreakos was there to bury the loose puck amid a scramble in the crease.
Vermont then padded the score at 3-0 in the second period when Cassidy Campeau dished to Mackenzie MacNeil, who skated into the left circle and lit the lamp at 6:30 with the help of a Dartmouth redirection. Ali O'Leary was credited the secondary assist in the sequence.
After the Big Green's Kennedy Ottenbreit struck at 18:44 of the middle stanza, UVM responded midway through the third. Amanda Drobot found Sammy Kolowrat at the left point for a one-time opportunity that ended with the sophomore's first goal of the season. O'Leary once again earned a helper.
Ottenbreit added her second of the day in the game's final 60 seconds after finishing a breakaway opportunity, moving the score to 4-2 for the balance of the afternoon.
Vermont wraps up the term sitting above .500 for the first time since 2013-14, when the squad started 8-7-4 en route to a program-best 18 wins on the season.
The Catamounts now head into a nearly three-week break, returning to action on Friday, Dec. 30 to welcome Yale for a 2 p.m. matchup at Gutterson Fieldhouse.