Tuesday, November 29, 2016
Vanisova Scores Twice As Maine Defeats Dartmouth, 3-2
Freshman forward Tereza Vanišová scores two goals for Black Bears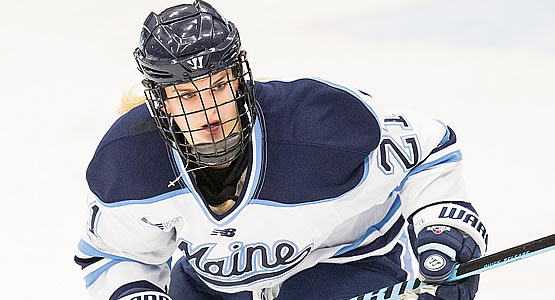 Freshman forward Tereza Vanišová scored two goals for the Black Bears
| | | | | | | |
| --- | --- | --- | --- | --- | --- | --- |
| Prd | Time | Team | Score | Type | Scored By | Assists |
| 1st | 2:26 | MNE | 1-0 | EV | Tereza Vanišová (9) | Vendula Přibylová/8, Brittany Colton/1 |
| 1st | 7:22 | DAR | 1-1 | EV | Kennedy Ottenbreit (1) | Eleni Tebano/2 |
| 1st | 18:39 | MNE | 2-1 | EV | Tereza Vanišová (10) | Vendula Přibylová/9, Brooke Stacey/5 |
| 2nd | 4:35 | MNE | 3-1 | SH GW | Lydia Murray (1) | - |
| 2nd | 13:03 | DAR | 2-3 | PP | Emma Korbs (2) | Eleni Tebano/3 |
| | | | | |
| --- | --- | --- | --- | --- |
| Scoring | 1st | 2nd | 3rd | Final |
| Dartmouth | 1 | 1 | 0 | 2 |
| Maine | 2 | 1 | 0 | 3 |
| | | | | |
| --- | --- | --- | --- | --- |
| Shots on Goal | 1st | 2nd | 3rd | SOG |
| Dartmouth | 7 | 12 | 8 | 27 |
| Maine | 10 | 9 | 7 | 26 |
| | | | |
| --- | --- | --- | --- |
| Team Stats and Records | PP | PIM | SHGF |
| Dartmouth (2-6-0) | 1/5 | 3/6 | 0 |
| Maine (4-12-1) | 0/3 | 5/10 | 1 |
| | | | | | | |
| --- | --- | --- | --- | --- | --- | --- |
| Dartmouth Goaltending | MIN | GA | 1 | 2 | 3 | Saves |
| Robyn Chemago (L, 2-4-0) | 59:11 | 3 | 8 | 8 | 7 | 23 |
| Empty Net | 0:49 | 0 | | | | |
| | | | | | | |
| --- | --- | --- | --- | --- | --- | --- |
| Maine Goaltending | MIN | GA | 1 | 2 | 3 | Saves |
| Mariah Fujimagari (W, 2-1-0) | 60:00 | 2 | 6 | 11 | 8 | 25 |
ORONO, Maine - After getting shut out 4-0 by Dartmouth on Monday night, Maine came out hungry for the Tuesday night rematch and ended up taking game two by a score of 3-2 on goals from Freshmen Tereza Vanisova, who scored two in the first period, and Lydia Murray, who scored her first collegiate goal short-handed.
In the first period Maine came out firing as they tallied 10 shots on net in the first period, and scoring their first goal 2:26 into the period as Tereza Vanisova took a feed from Vendula Pribylova and off an initial shot by Brittany Colton to give Maine a quick 1-0 lead. Dartmouth would answer right back, though, 7:22 into the period as Kennedy Ottenbreit snuck one past Maine goaltender Mariah Fujimagari, tying the game at 1-all.
The Black Bears weren't done in the first, however, as Vanisova would get another goal 18:39 into the period, her 10th of the season, assisted once again by Pribylova and Brooke Stacey. The Black Bears ended the first period up 2-1.
In a game with a lot of physical play with 8 total penalties, Maine found itself on the penalty kill early in the second period; however, Maine Freshman Lydia Murray was able to pick off the attacking Dartmouth forwards in the neutral zone, taking the puck off the boards and skating towards the net, as she fired a shot that bounced off the post and found its way back to her stick, and after a breif fight with Dartmouth Goaltender Robyn Chemago, the puck found its way past her pad into the net for the short-handed goal. It was Murray's first career goal and Maine's first short-handed goal of the season, and would end up to be the eventual game-winner.
Dartmouth would answer back in the second, 13:03 on another power play chance, as Emma Korbs shot one in past Fujimagari to cut the lead to 1; the period would end with Maine leading, 3-2.
Both teams had but one power play chance in the final period, but were unable to convert on a scoring chance as the third period would go scoreless, and Maine would take the victory 3-2 over Dartmouth, splitting the series.
Maine Goaltender Mariah Fujimagary gets the win, her 2nd of the season, puts her record at 2-1-0 after stopping 25 of 27 Dartmouth shots. Dartmouth's goaltender Robyn Chemango who shut out the Black Bears the previous evening stopped 23 of 26 Maine shots, her record is now 2-4-0.
Maine is back at it next weekend against Union College, Friday and Saturday afternoons at 2pm at Alfond Arena.