Saturday, October 15, 2016
Parker Posts Five Points As Boston University Tops Penn State, 7-2
Senior forward Mary Parker has hat trick and two assists for Terriers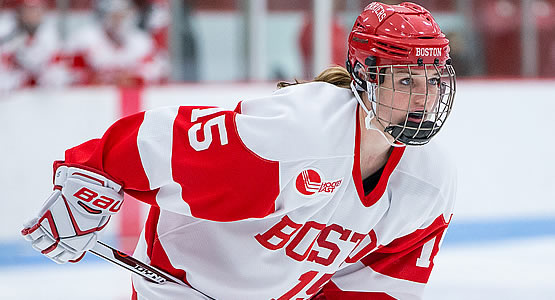 Senior forward Mary Parker had hat trick and three assists for Terriers
| | | | | | | |
| --- | --- | --- | --- | --- | --- | --- |
| Prd | Time | Team | Score | Type | Scored By | Assists |
| 1st | 0:53 | BU | 1-0 | EV | Mary Parker (3) | Alexis Crossley/2, Maddie Elia/2 |
| 1st | 3:05 | PSU | 1-1 | EV | Aly Hardy (1) | Brooke Madsen/7 |
| 1st | 3:25 | BU | 2-1 | EV | Mary Parker (4) | Nina Rodgers/2, Victoria Bach/4 |
| 1st | 15:00 | BU | 3-1 | PP GW | Sammy Davis (1) | Sarah Steele/1, Samantha Sutherland/1 |
| 2nd | 6:13 | PSU | 2-3 | EV EA | Abby Welch (1) | Laura Bowman/4, Bella Sutton/5 |
| 2nd | 10:51 | BU | 4-2 | PP | Mary Parker (5) | Victoria Bach/5, Alexis Crossley/3 |
| 2nd | 16:00 | BU | 5-2 | EV | Connor Galway (1) | Alexandra Calderone/2, Maddie Elia/3 |
| 2nd | 17:59 | BU | 6-2 | PP | Maddie Elia (4) | Rebecca Leslie/5, Mary Parker/2 |
| 3rd | 19:45 | BU | 7-2 | EV | Mary Grace Kelley (1) | Mary Parker/3 |
| | | | | |
| --- | --- | --- | --- | --- |
| Scoring | 1st | 2nd | 3rd | Final |
| Boston University | 3 | 3 | 1 | 7 |
| Penn State | 1 | 1 | 0 | 2 |
| | | | | |
| --- | --- | --- | --- | --- |
| Shots on Goal | 1st | 2nd | 3rd | SOG |
| Boston University | 12 | 9 | 16 | 37 |
| Penn State | 6 | 10 | 7 | 23 |
| | | | |
| --- | --- | --- | --- |
| Team Stats and Records | PP | PIM | SHGF |
| Boston University (3-1-1) | 3/5 | 5/10 | 0 |
| Penn State (1-4-1) | 0/5 | 5/10 | 0 |
| | | | | | | |
| --- | --- | --- | --- | --- | --- | --- |
| Boston University Goaltending | MIN | GA | 1 | 2 | 3 | Saves |
| Victoria Hanson (W, 2-1-0) | 60:00 | 2 | 5 | 9 | 7 | 21 |
| | | | | | | |
| --- | --- | --- | --- | --- | --- | --- |
| Penn State Goaltending | MIN | GA | 1 | 2 | 3 | Saves |
| Hannah Ehresmann (L, 0-3-1) | 15:00 | 3 | 8 | 0 | 0 | 8 |
| Daniela Paniccia | 44:46 | 4 | 1 | 6 | 15 | 22 |
| Empty Net | 0:14 | 0 | | | | |
UNIVERSITY PARK, Pa. - Graduate student Mary Parker (Milton, Mass.) collected her second career hat trick as part of a five-pont afternoon to lead the Boston University women's ice hockey team to a 7-2 win at Penn State on Saturday afternoon at Pegula Ice Arena.
THE RUNDOWN
Final Score: Boston University 7, Penn State 2
Records: BU (3-1-1, 2-1-0 WHEA), Penn State (1-4-1, 0-0-0 CHA)
Location: Pegula Ice Arena - University Park, Pa.
GOAL-BY-GOAL
- Parker opened the scoring just 53 seconds into the proceedings when she knocked home a rebound off an Alexis Crossley shot.
- Penn State tied the game at the 3:05 mark of the period, but 20 seconds later Parker had her second of the period thanks to assists from juniors Nina Rodgers and Victoria Bach.
- Sophomore Sammy Davis made it 3-1 with 5:00 to play in the opening period when she redirected a Sarah Steele shot on the power play.
- Leading 3-2 in the second period, Parker completed her hat trick with a sensational wrist shot that went over Daniela Paniccia's glove and underneath the crossbar.
- Sophomore Connor Galway notched her first collegiate goal with a blast from the point at the 16:00 mark of the second stanza.
- Senior Maddie Elia, already with two assists on the day, added a power-play goal with 2:01 to play in the middle period. It came on the heels of a superb stop from senior goaltender Victoria Hanson on a shorthanded breakaway bid.
- Sophomore Mary Grace Kelley closed the game on a high note with a great individual effort thar led to her first goal of the season. Parker disrupted a pass in the defensive zone and Kelley did the rest, skating up the right wing and eventually sending the puck into the back of the net.
CROWDED SCORESHEET
- In addition to Parker's five-point afternoon (3g, 2a), three other Terriers had multi-point games.
- Elia recorded a goal and two assists while Bach and Crossley both had a pair of helpers.
- Freshman Alexandra Calderone and junior Rebecca Leslie each recorded an assist, as did senior Samantha Sutherland.
GAME NOTES
- Hanson had a strong game between the pipes, making several tough stops as part of a 21-save performance.
- The Terriers avoided a winless weekend and have not dropped both games of a weekend series away from home since Jan. 24-25, 2014 (at Vermont).
- Sutherland and Davis have now recorded a point in four of the Terriers five games this season.
- Parker's last hat trick was while she was with Harvard - it came against Brown on Feb. 7, 2015.
- BU finished the weekend 9-of-10 on the penalty kill, including a perfect 5-of-5 performance on Saturday.
UP NEXT
- BU will remain on the road but return to league play when the Terriers make the short trip to Matthews Arena to face Northeastern on Tuesday night at 7 p.m.