Saturday, November 19, 2016
Hanson Stops 29 Shots As Boston University Sweeps Merrimack, 2-0
Senior goaltender Victoria Hanson earns first career shutout with 29 saves for Terriers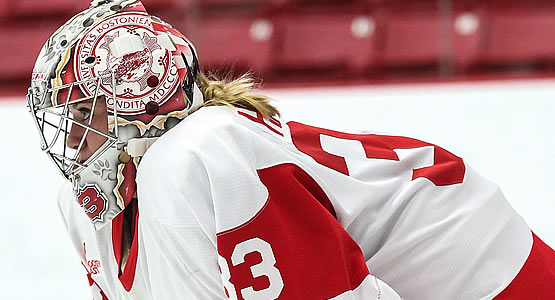 Senior goaltender Victoria Hanson made 29 saves for the Terriers
| | | | | | | |
| --- | --- | --- | --- | --- | --- | --- |
| Prd | Time | Team | Score | Type | Scored By | Assists |
| 2nd | 13:37 | BU | 1-0 | PP GW | Mary Parker (11) | Connor Galway/4, Breanna Scarpaci/1 |
| 3rd | 18:31 | BU | 2-0 | EV EN | Sammy Davis (4) | Victoria Bach/10 |
| | | | | |
| --- | --- | --- | --- | --- |
| Scoring | 1st | 2nd | 3rd | Final |
| Merrimack | 0 | 0 | 0 | 0 |
| Boston University | 0 | 1 | 1 | 2 |
| | | | | |
| --- | --- | --- | --- | --- |
| Shots on Goal | 1st | 2nd | 3rd | SOG |
| Merrimack | 6 | 11 | 12 | 29 |
| Boston University | 14 | 14 | 13 | 41 |
| | | | |
| --- | --- | --- | --- |
| Team Stats and Records | PP | PIM | SHGF |
| Merrimack (4-10-1) | 0/4 | 5/10 | 0 |
| Boston University (7-5-1) | 1/5 | 4/8 | 0 |
| | | | | | | |
| --- | --- | --- | --- | --- | --- | --- |
| Merrimack Goaltending | MIN | GA | 1 | 2 | 3 | Saves |
| Léa-Kristine Demers (L, 4-7-0) | 57:50 | 1 | 14 | 13 | 12 | 39 |
| Empty Net | 2:10 | 1 | | | | |
| | | | | | | |
| --- | --- | --- | --- | --- | --- | --- |
| Boston University Goaltending | MIN | GA | 1 | 2 | 3 | Saves |
| Victoria Hanson (W, 4-2-0) | 60:00 | 0 | 6 | 11 | 12 | 29 |
BOSTON - Senior Victoria Hanson stopped all 29 shots she faced to record her first collegiate shutout and help lead the Boston University women's ice hockey team to a 2-0 victory over Merrimack on Saturday afternoon at Agganis Arena.
THE RUNDOWN
Final Score: Boston University 2, Merrimack 0
Records: BU (7-5-1, 6-5-0 WHEA), Merrimack (4-10-1, 2-7-0 WHEA)
Location: Agganis Arena - Boston, Mass.
TURNING POINT
- Graduate student Mary Parker notched her team-leading 11th goal of the season on a power play to give BU a 1-0 lead late in the second period.
GOAL-BY-GOAL
- It took over 33 minutes to see the game's first goal, but Parker provided it at the 13:37 mark of the second stanza. With BU on a power play, freshman Breanna Scarpaci and sophomore Connor Galway cycled the puck to Parker, who was located below the right faceoff circle. She made a quick move past a defender to give her a better angle at the goal and the picked out the top right corner, beating Lea-Kristine Demers (39 saves).
- BU sealed the victory with a crucial empty-netter with 1:29 remaining in regulation. Junior Victoria Bach forced a turnover in the defensive zone and pushed the puck forward to sophomore Sammy Davis. Davis sent the puck the length of the ice and into the vacant cage for her fourth goal of the season.
GAME NOTES
- Hanson won both games this weekend between the pipes, making a combined 45 saves.
- This is the Terriers' first shutout since Feb. 26, 2016, when Erin O'Neil blanked Vermont, 3-0, in game one of the Hockey East quarterfinals.
- Today's win marked the first time BU emerged victorious this season without scoring five or more goals.
- Parker extended her point streak to six games (5g, 5a), having scored a goal in each of the last four fixtures.
- Bach also kept her point streak in tact; she now has six goals and four assists over the last five games.
- Scarpaci secured her first collegiate assist on the game-winning goal and now has two points in two games. She scored her first collegiate goal on Friday night at Merrimack.
UP NEXT
- BU will head across the river to face Harvard on Tuesday night at 7 p.m.