Boston College Tops Vermont in Double Overtime, 4-3, to Advance to Hockey East Championship
Senior forward Andie Anastos scores in second overtime for Eagles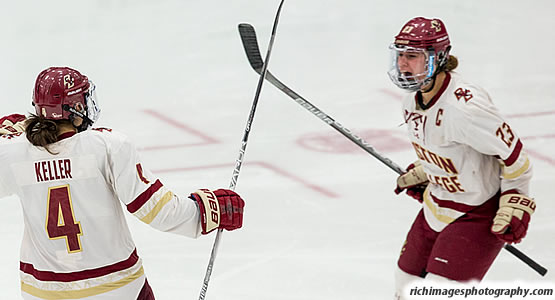 Senior forward Andie Anastos scored in second overtime for the Eagles
| | | | | | | |
| --- | --- | --- | --- | --- | --- | --- |
| Prd | Time | Team | Score | Type | Scored By | Assists |
| 1st | 6:12 | BC | 1-0 | PP | Kenzie Kent (8) | Andie Anastos/25, Megan Keller/27 |
| 2nd | 2:03 | BC | 2-0 | EV | Caitrin Lonergan (15) | Megan Keller/28, Grace Bizal/12 |
| 2nd | 8:28 | VER | 1-2 | PP | Taylor Willard (4) | Sammy Kolowrat/3, Ève-Audrey Picard/15 |
| 2nd | 12:03 | BC | 3-1 | EV | Makenna Newkirk (14) | Serena Sommerfield/5 |
| 2nd | 16:18 | VER | 2-3 | PP | Ali O'Leary (1) | Taylor Willard/12, Sammy Kolowrat/4 |
| 3rd | 6:40 | VER | 3-3 | PP | Alyssa Gorecki (13) | Amanda Drobot/8, Daria O'Neill/15 |
| OT2 | 3:03 | BC | 4-3 | EV GW | Andie Anastos (14) | Kenzie Kent/15, Megan Keller/29 |
| | | | | | | |
| --- | --- | --- | --- | --- | --- | --- |
| Scoring | 1 | 2 | 3 | O1 | O2 | Final |
| Vermont | 0 | 2 | 1 | 0 | 0 | 3 |
| Boston College | 1 | 2 | 0 | 0 | 1 | 4 |
| | | | | | | |
| --- | --- | --- | --- | --- | --- | --- |
| Shots | 1 | 2 | 3 | O1 | O2 | SOG |
| Vermont | 5 | 12 | 9 | 4 | 1 | 31 |
| Boston College | 15 | 6 | 12 | 17 | 3 | 53 |
| | | | |
| --- | --- | --- | --- |
| Team Stats and Records | PP | PIM | SHGF |
| Vermont (15-14-9) | 3/6 | 4/8 | 0 |
| Boston College (26-5-5) | 1/4 | 6/12 | 0 |
| | | | | | | | | |
| --- | --- | --- | --- | --- | --- | --- | --- | --- |
| Vermont Goaltending | MIN | GA | 1 | 2 | 3 | O1 | O2 | Saves |
| Madison Litchfield (L, 10-7-6) | 83:03 | 4 | 14 | 4 | 12 | 17 | 2 | 49 |
| | | | | | | | | |
| --- | --- | --- | --- | --- | --- | --- | --- | --- |
| Boston College Goaltending | MIN | GA | 1 | 2 | 3 | O1 | O2 | Saves |
| Katie Burt (W, 24-5-5) | 82:48 | 3 | 5 | 10 | 8 | 4 | 1 | 28 |
| Empty Net | 0:15 | 0 | | | | | | |
BOSTON - Captain Andie Anastos scored the game-winning goal on a turn-around, no-look backhand 3:03 into the second overtime period as the sixth-ranked and top-seeded Boston College women's hockey team topped Vermont, 4-3, to advance to the 2017 Hockey East Tournament championship game tomorrow.
BC had a pair of two-goal leads but Vermont netted three power-play goals - including the game-tying goal in the third period - to force extra hockey.
Boston College (26-5-5) staked a 1-0 lead after the first period via Kenzie Kent's power-play goal, but the teams combined for four goals in the second period.
Caitrin Lonergan pushed the Eagles' lead to two, but Vermont (15-14-9) responded with a power-play goal to cut the lead to one. Makenna Newkirk re-claimed the two-goal lead with her effort at 12:03, but Vermont again cut into the lead with another power-play goal at 16:18. Alyssa Gorecki tied the game 6:40 into the third period, and neither team converted as regulation expired and led to extra stanzas.
Katie Burt made 29 saves in the win, while Vermont's Madison Litchfield stopped 49 shots in the loss. Overall, the Eagles out-shot UVM, 53-31, including margins of 17-4 in the first overtime and a 3-1 edge in the second OT.
Follow the #BCEagles all season at @bc_whockey on Twitter and Instagram.
No. 6 Boston College 4, Vermont 3 (2OT)
Saturday, March 4, 2017
Walter Brown Arena | Boston, Mass.
HOW IT HAPPENED
1st, 6:12 | 1-0, BC GOAL (PPG) - With the Eagles on their first man-advantage of the game, the Eagles converted with a precision passing sequence. Megan Keller got the puck at the right point and fed a pass through traffic in front to Andie Anastos just off the left side of the net. Anastos collected the pass and shot it right back out to Kenzie Kent streaming in from the top of the opposite faceoff circle, and her one-timer off the pass cleared the open next left open by Vermont goaltender Madison Litchfield who was still covering Anastos on her near side.
2nd, 2:03 | 2-0, BC GOAL - Keller and Grace Bizal traded passes in the defensive zone before Keller snapped a pass ahead to Caitrin Lonergan at the red line. The freshman burst into the zone and cut inside at the circle. The puck bounced off a UVM defender on the cut, allowing her pick it up and continue her move across the face of goal where she backhanded past Litchfield for the two-goal lead.
2nd, 8:28 | 2-1, UVM GOAL (PPG) - Vermont got on the board with a power-play goal midway through the second period. Eve-Audrey Picard pulled the puck off the boards in the corner and played it up to Taylor Willard at the left point. Willard traded passes with Sammy Kolowrat on the left point before launching a blast that beat Katie Burt high through traffic.
2nd, 12:03 | 3-1, BC GOAL - Serena Sommerfield picked off a UVM outlet pass at center ice just after coming on for her shift, and pushed the puck ahead to Makenna Newkirk coming strong into the Vermont zone. Newkirk skated around a pair of UVM defenders and put a wrist shot up over Litchfield's glove to re-claim the two-goal lead.
2nd, 16:18 | 3-2, UVM GOAL (PPG) - Kolowrat and Willard again traded passes along the blue line on the man-advantage and Willard sent a shot in from the right side that Burt saved. The rebound, however, popped out in traffic and Ali O'Leary jumped on it just off the right post and poked it in to pull Vermont within one late in the second period.
3rd, 6:40 | 3-3, UVM GOAL - The Catamounts scored their third power-play goal of the game when Amanda Drobot's shot from the point kicked up in front off of Alyssa Gorecki, popping up over Burt in traffic to level the score at 3-3.
2OT, 3:03 | 4-3, BC GOAL - Keller and Kent traded passes from the center point and halfboards, but as Kent came around the top of the circle, Keller fed her at the top of the right circle. Kent sent in a shot, but Anastos knocked it down in space, collected it and threw a no-look backhand on goal that found space between the post and Litchfield to send the Eagles to the championship.
TEAM NOTES
- Boston College has advanced to its fourth-straight Hockey East Tournament championship game, and will play for its third title tomorrow ... this is BC's seventh trip to the league championship game in program history
- BC is now 17-9 all-time in the Hockey East Tournament, including a 7-4 mark in the semifinal round
- The Eagles are now 12-2 all-time as the tournament's top seed, and have a six-game winning streak in the tournament
- BC moved to 2-0-5 in overtime games this season ... both of BC's OT wins have come against Vermont: Jan. 20 in Burlington and today
- This was the first overtime contest in the Hockey East semifinals since 2011 when the Eagles topped Providence, 3-2, to advance to the championship game and eventually win its first-ever Hockey East Tournament title
- This was the first-ever 2OT game in the Hockey East Tournament semifinals ... this was just the second double-OT game in the final two rounds of the Hockey East Tournament in event history: BU topped PC, 2-1 in 2OT in the 2012 championship game
- This was BC's first double-overtime game since the Eagles played back-to-back 2OT games in the 2007 NCAA Tournament: win 3-2 at Dartmouth on March 10, 2007 before losing 4-3 vs. Minnesota Duluth in the national semifinals on March 16, 2007
- Today marked the Eagles' first 50-shot game of the season ... prior to today, the last time BC put at least 50 shots on goal was Feb. 26, 2016 with 55 against Maine
- Kenzie Kent's power-play goal was the Eagles' first in four games ... BC last scored on the power-play on Feb. 18 at Providence, going 1-for-2 in the game to push its then PPG streak to six games matching the program record
- Vermont scored three power-play goals against the Eagles' penalty kill, which led the nation coming into the game ... it was the second time this season that BC had allowed more than one power-play goal in a game, and just the 11th, 12th and 13th power-play goals BC has surrendered while down a player this year
- The last time Boston College allowed three power-play goals in a game was against Providence on Nov. 3, 2013 when the Friars went 4-for-8 in an 8-6 BC victory
- Boston College now has 38 power-play goals this season - the most in the nation - as seven different players have scored at least three PPGs this season
- BC improved to 39-3-3 all-time against Vermont, and 2-0-0 against the 'Cats in the Hockey East Tournament
- BC has now won the last 15 meetings between the two teams and are undefeated against UVM in the last 24 games (21-0-3)
PLAYER NOTES
- With two points today, Andie Anastos has set a new single-season best point total with 39 points, passing her previous high of 37 as a junior
- Anastos' assist in the first period was her 140th career point and moved her into sole possession of fifth place on the Eagles' career points chart, breaking a tie with Allie Thunstrom '10 at 139 points
- Anastos recorded her 10th multiple-point game of the season
- Anastos' assist on Kent's first-period goal was the 85th assist of her career ... she sits sixth on the Eagles' career assist chart
- Megan Keller recorded her team-leading 27th, 28th and 29th assists of the season ... she pushed her career point total to 114 points, moving into sole possession of 12th place on the Eagles' career points chart while leaping Mary Restuccia '12 (113)
- Keller's three assists moved her career total to 89 and she claimed fourth place as her own on the Eagles' career assist chart ... she is now 22 back of third-place Kelli Stack '11
- Keller leads all Eagles with 11 points against Vermont in four games this season
- Keller extended her point streak to six games 14 points ... she is now one game shy of her career-long point streak of seven, which she posted between Jan. 22 and Feb. 12, 2016 (14 points)
- Keller has seven points in three Hockey East Tournament games this year
- Kenzie Kent tallied her eighth goal of the season with her first-period power-play strike ... it was her third power-play goal of the year
- Kent registered her fourth multiple-point game of the season, and her first since her two-goal effort against Vermont on Feb. 12
- Kent's assist on Anastos' game-winner was her 74th career assist ... she is one shy of reaching 75 in her career
- Caitrin Lonergan scored her 15th goal of the season with her second-period goal ... it was her third goal in the last four games
- Makenna Newkirk notched her 14th goal of the season in the second period ... it was her 36th career goal and her 86th career point
- Newkirk's goal was her first point in the last five games in which she played ... her last points came in a three-point game against Connecticut on Feb. 3, but she missed three games (Feb. 12 through Feb. 19) with injury in that span
- Serena Sommerfield recorded her fifth assist of the season - and sixth point - with her set-up of Newkirk's second-period goal ... all of her points have come this season
- Grace Bizal returned to the ice for the first time in six weeks after suffering an injury at Vermont on Jan. 20 ... she skated a regular shift today and also collected her 12th assist of the year, a new single-season high that passed her 11-assist season as a freshman
TEAM RECORDS
Vermont: 15-14-9
Boston College: 26-5-5
UP NEXT
Boston College will face the winner of the No. 2 Northeastern - No. 3 seed Boston University semifinal tomorrow, Sunday, March 5, in the 2017 Hockey East Championship at Walter Brown Arena. Faceoff is set for 1:30 p.m., and the game will be broadcast live on NESNPlus.