Boston College And Quinnipiac Play To 0-0 Draw
Junior goaltender Katie Burt makes 23 saves for Eagles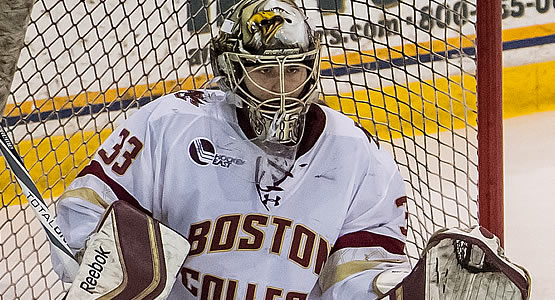 Junior goaltender Katie Burt made 23 saves for the Eagles
| | | | | | | |
| --- | --- | --- | --- | --- | --- | --- |
| Prd | Time | Team | Score | Type | Scored By | Assists |
| | | | | | |
| --- | --- | --- | --- | --- | --- |
| Scoring | 1st | 2nd | 3rd | OT | Final |
| Quinnipiac | 0 | 0 | 0 | 0 | 0 |
| Boston College | 0 | 0 | 0 | 0 | 0 |
| | | | | | |
| --- | --- | --- | --- | --- | --- |
| Shots on Goal | 1st | 2nd | 3rd | OT | SOG |
| Quinnipiac | 8 | 7 | 6 | 2 | 23 |
| Boston College | 13 | 9 | 13 | 3 | 38 |
| | | | |
| --- | --- | --- | --- |
| Team Stats and Records | PP | PIM | SHGF |
| Quinnipiac (5-1-1) | 0/6 | 4/8 | 0 |
| Boston College (3-2-2) | 0/4 | 6/12 | 0 |
| | | | | | | | |
| --- | --- | --- | --- | --- | --- | --- | --- |
| Quinnipiac Goaltending | MIN | GA | 1 | 2 | 3 | OT | Saves |
| Sydney Rossman (T, 5-1-1) | 64:49 | 0 | 13 | 9 | 13 | 3 | 38 |
| Empty Net | 0:11 | 0 | | | | | |
| | | | | | | | |
| --- | --- | --- | --- | --- | --- | --- | --- |
| Boston College Goaltending | MIN | GA | 1 | 2 | 3 | OT | Saves |
| Katie Burt (T, 3-2-2) | 64:58 | 0 | 8 | 7 | 6 | 2 | 23 |
| Empty Net | 0:02 | 0 | | | | | |
CHESTNUT HILL, Mass. - In the East's first Top-10 battle of the season, the No. 6 Boston College women's hockey team played to a 0-0 tie with No. 3 Quinnipiac on Friday afternoon at Kelley Rink.
Boston College put up 38 shots on Quinnipiac goaltender Sydney Rossman, while the Eagles' backstop Katie Burt posted 23 saves in her first shutout of the season.
"I thought we played much better than we had been playing," BC head coach Katie Crowley said. "I was really impressed with how hard we went and that we played BC hockey again, which was nice to see. Obviously it would've been nice to pop one in there but overall I'm really happy with the way our team played."
BC was held scoreless for the first time in 106 games spanning four seasons. The last time BC was shut out was Feb. 8, 2014, a 2-0 loss at Connecticut.
The second period stood out as both teams withstood extended penalty-kill time, with BC negating all four of the Bobcats' opportunities, including a four-minute long penalty to Toni Ann Miano. Quinnipiac also killed off BC's 90-second 5-on-3 advantage.
BC out-shot Quinnipiac 13-6 in the third period - and held a slight 3-2 advantage in overtime - for the final edge in shots.
The teams are back in action tomorrow, Saturday, Oct. 22, when Boston College travels to Hamden, Conn., where the Eagles will play the back half of the home-and-home series with Quinnipiac at the Bobcats' High Point Solutions Arena. Faceoff is set for 3 p.m.
Follow the #BCEagles all season at @bc_whockey on Twitter and Instagram.
GAME NOTES
- The tie moved the Eagles' all-time record against Quinnipiac to 10-4-4 ... the Eagles remained undefeated at home against the Bobcats, now 10-0-2
- Tonight marked the first time Boston College was shut out since Feb. 8, 2014 - a 2-0 loss at Connecticut ... that's a stretch of 106 games
- BC's penalty kill was a perfect 6-for-6 on the night and is now 35-for-37 overall on the season (94.6 percent) ... this was the third time this season BC killed all six penalties against them in a game
- BC saw its six-game stretch with a power-play goal snapped ... tonight BC was 0-for-4 ... the Eagled entered the weekend leading the nation with a 34.5 percent conversion rate (10-for-29)
- Andie Anastos returned to regular shifts today after not skating in the Eagles' previous three games despite dressing
- Erin Connolly, normally a defender, lined up at center for the first time in her collegiate career