Saturday, February 18, 2017
Providence College Defeats Boston College, 4-1
Sophomore forward Christina Putigna scores goal and assist for Friars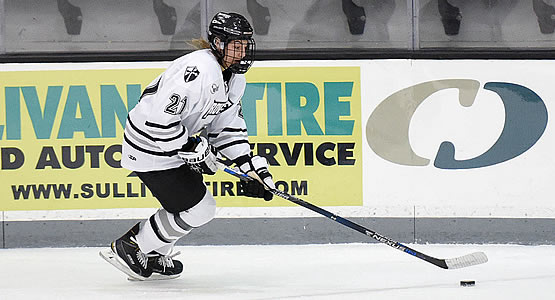 Sophomore forward Christina Putigna had a goal and an assist for the Friars
| | | | | | | |
| --- | --- | --- | --- | --- | --- | --- |
| Prd | Time | Team | Score | Type | Scored By | Assists |
| 1st | 0:54 | PRV | 1-0 | EV | Christina Putigna (8) | Kathleen McHugh/3 |
| 1st | 14:31 | PRV | 2-0 | EV GW | Kathleen McHugh (3) | Brooke Boquist/12, Kate Friesen/12 |
| 2nd | 5:25 | BC | 1-2 | PP | Delaney Belinskas (15) | Megan Keller/23 |
| 2nd | 13:58 | PRV | 3-1 | EV | Cassidy MacPherson (8) | Arianna Reid/2 |
| 3rd | 8:57 | PRV | 4-1 | EV | Kathleen McHugh (4) | Brooke Boquist/13, Christina Putigna/17 |
| | | | | |
| --- | --- | --- | --- | --- |
| Scoring | 1st | 2nd | 3rd | Final |
| Boston College | 0 | 1 | 0 | 1 |
| Providence | 2 | 1 | 1 | 4 |
| | | | | |
| --- | --- | --- | --- | --- |
| Shots on Goal | 1st | 2nd | 3rd | SOG |
| Boston College | 10 | 11 | 12 | 33 |
| Providence | 11 | 4 | 7 | 22 |
| | | | |
| --- | --- | --- | --- |
| Team Stats and Records | PP | PIM | SHGF |
| Boston College (22-5-5) | 1/2 | 2/4 | 0 |
| Providence (16-14-3) | 0/2 | 2/4 | 0 |
| | | | | | | |
| --- | --- | --- | --- | --- | --- | --- |
| Boston College Goaltending | MIN | GA | 1 | 2 | 3 | Saves |
| Katie Burt (L, 20-5-5) | 59:54 | 4 | 9 | 3 | 6 | 18 |
| Empty Net | 0:06 | 0 | | | | |
| | | | | | | |
| --- | --- | --- | --- | --- | --- | --- |
| Providence Goaltending | MIN | GA | 1 | 2 | 3 | Saves |
| Madison Myers (W, 10-10-3) | 60:00 | 1 | 10 | 10 | 12 | 32 |
PROVIDENCE, R.I. - The Providence College women's ice hockey team defeated No. 6 Boston College, 4-1, on Saturday, Feb. 18 at Schneider Arena in Providence, R.I. The Friars improved to 16-14-3 (11-9-3 HE), while the Eagles moved to 22-5-5 (16-4-3 HE).
The Friars snapped a 15-game losing streak to the Eagles, winning for the first time since 2012.
Providence jumped out to an early lead, scoring 54 seconds into the game. With a scrum in front of the net, Kathleen McHugh (Billerica, Mass.) moved the puck to Christina Putigna (Grimsby, Ontario) for a wrap-around goal that hit off of an Eagles defender on the far post and past Boston College's Katie Burt.
McHugh notched her second point of the game and extended the Friars lead to 2-0. Kate Friesen (Altona, Manitoba) moved the puck from the point to Brooke Boquist (Thunder Bay, Ontario) just below the hash-marks. Boquist fed McHugh in the slot, for a wrist shot that just beat Burt by the post.
After the first period Madison Myers (Colchester, Vt.) made 10 saves to keep the Eagles off the board.
In the second period BC registered their lone goal of the game on a power play at 5:25 from Delaney Belinskas.
Providence responded with a goal from Cassidy MacPherson (Oakville, Ontario) at 13:58. Arianna Reid (Lakeville, Minn.) broke up an Eagle breakout in the neutral zone and left the puck for MacPherson to pick up. MacPherson skated into Eagle territory and used the two-on-one opportunity as a screen to shoot into an open net.
The Friars opened the third period with a 3-1 lead over the Eagles. BC nearly closed the gap to 3-2, but the goal was called off due to a high stick with 11 minutes remaining in regulation.
McHugh added more insurance for the Friars with her second goal of the game at 8:57 of the third period. The freshman forward received a feed from Boquist and one-timed the puck from the slot to the far post. Putigna also added her second assist of the day on the play.
Myers made 32 saves, while Eagles goaltender Katie Burt made 18 saves.
With the win, Providence secures no less than a fifth seed in the Hockey East playoffs and home ice for the Quarterfinals is still undecided.
The Friars will travel to Kelly Rink at Conte Forum on Feb. 19 for a 2:00 p.m. puck drop versus No. 6 Boston College.