Boston College Scores Final Three Goals To Top Boston University, 5-3
Freshman forward Delaney Belinskas scores two goals for Eagles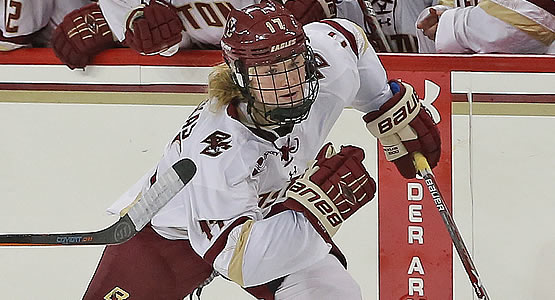 Freshman forward Delaney Belinskas scored two goals for the Eagles
| | | | | | | |
| --- | --- | --- | --- | --- | --- | --- |
| Prd | Time | Team | Score | Type | Scored By | Assists |
| 1st | 15:09 | BU | 1-0 | PP | Sammy Davis (2) | Sarah Steele/2, Nina Rodgers/5 |
| 2nd | 11:50 | BC | 1-1 | EV | Caitrin Lonergan (7) | Makenna Newkirk/6 |
| 2nd | 12:07 | BU | 2-1 | EV | Sammy Davis (3) | Natasza Tarnowski/1, Rebecca Leslie/7 |
| 2nd | 18:28 | BC | 2-2 | PP | Erin Connolly (1) | Kenzie Kent/5, Kristyn Capizzano/3 |
| 3rd | 3:27 | BU | 3-2 | EV | Nina Rodgers (1) | Mary Parker/4, Alexis Crossley/4 |
| 3rd | 9:40 | BC | 3-3 | EV | Delaney Belinskas (6) | Caroline Ross/2, Caitrin Lonergan/6 |
| 3rd | 11:45 | BC | 4-3 | EV GW | Delaney Belinskas (7) | - |
| 3rd | 19:23.7 | BC | 5-3 | EV EN | Kristyn Capizzano (3) | - |
| | | | | |
| --- | --- | --- | --- | --- |
| Scoring | 1st | 2nd | 3rd | Final |
| Boston University | 1 | 1 | 1 | 3 |
| Boston College | 0 | 2 | 3 | 5 |
| | | | | |
| --- | --- | --- | --- | --- |
| Shots on Goal | 1st | 2nd | 3rd | SOG |
| Boston University | 14 | 17 | 5 | 36 |
| Boston College | 13 | 14 | 12 | 39 |
| | | | |
| --- | --- | --- | --- |
| Team Stats and Records | PP | PIM | SHGF |
| Boston University (3-4-1) | 1/4 | 7/14 | 0 |
| Boston College (7-2-2) | 1/6 | 5/10 | 0 |
| | | | | | | |
| --- | --- | --- | --- | --- | --- | --- |
| Boston University Goaltending | MIN | GA | 1 | 2 | 3 | Saves |
| Erin O'Neil (L, 1-2-1) | 59:35 | 4 | 13 | 12 | 9 | 34 |
| Empty Net | 0:25 | 1 | | | | |
| | | | | | | |
| --- | --- | --- | --- | --- | --- | --- |
| Boston College Goaltending | MIN | GA | 1 | 2 | 3 | Saves |
| Katie Burt (W, 6-2-2) | 59:57 | 3 | 13 | 16 | 4 | 33 |
| Empty Net | 0:03 | 0 | | | | |
CHESTNUT HILL, Mass. - Freshman Delaney Belinskas scored two third-period goals - the game-tying goal and the go-ahead goal - as the fourth-ranked Boston College women's hockey team battled back three times from one-goal deficits to defeat Boston University, 5-3, on Friday night.
Fellow freshman Caitrin Lonergan and senior assistant captain Kristyn Capizzano each added one goal and one assist to help gain the win for Boston College (7-2-2, 6-1-1 HEA).
Boston University's Sammy Davis scored two goals - BU's first two goals - to twice give her team one-goal leads. Nina Rodgers tallied BU's third goal, but, like with Davis' goals, each time Boston University (3-4-1, 2-4-0 HEA) scored, the Eagles found a way to tie the game before Belinskas' go-ahead strike midway through the third period and Capizzano's game-sealing empty-net tally with 36 seconds left.
BC goaltender Katie Burt made 33 saves in the win, while BU's Erin O'Neil stopped 34 shots in the defeat.
Follow the #BCEagles all season at @bc_whockey on Twitter and Instagram.
No. 4 Boston College 5, Boston University 3
Friday, November 4, 2016
Kelley Rink at Conte Forum | Chestnut Hill, Mass.
HIGHLIGHTS
- Delaney Belinskas scored two goals, including the game-winning strike
- Caitrin Lonergan and Kristyn Capizzano each tallied one goal and one assist in the win
- Katie Burt made a season-high 33 saves - three shy of her career high - in the win, including 16 in the second period
HOW IT HAPPENED
1st, 15:09 - 0-1, BU GOAL (PPG) | On the power-play, the Terriers worked the puck low and after Nina Rodgers picked it up off the near boards, she played Sarah Steele at the center point. Her low shot was tipped in front by Sammy Davis and it trickled under Katie Burt to give BU a 1-0 lead.
2nd, 11:50 - 1-1, BC GOAL | Caitrin Lonergan stripped a BU player just inside the blue line and skated in on a 2-v-1 with Makenna Newkirk. Lonergan dished off to Newkirk on her right side, and the sophomore got it right back to her for the redirection past BU goaltender Erin O'Neil
2nd, 12:07 - 1-2, BU GOAL | Davis netted her second of the game, tipping in Natasza Tarnowski's centering pass off the boards along the endline. Rebecca Leslie got the play started when she fed Tarnowski coming out of the neutral zone.
2nd, 18:28 - 2-2, BC GOAL (PPG) | Erin Connolly leveled the score with her first collegiate goal. After Kristyn Capizzano and Kenzie Kent had a series of quick back-and-forth passes behind the net, Kent turned and quickly dished off to Connolly on the opposite post who shoveled it in for the 2-2 score going into the third.
3rd, 3:27 - 2-3, BU GOAL | Alexis Crossley's shot from the point was saved by Burt, but the rebound in traffic was pushed over to the left post by Mary Parker and Nina Rodgers was there for the quick tap-in as the Terriers regained the lead for the third time.
3rd, 9:40 - 3-3, BC GOAL | Lonergan broke up a BU backpass in front of the BU bench and the puck skid all the way around behind the Eagles' net to Caroline Ross on the far side endline. Ross pushed the puck ahead where Delaney Belinskas picked it up her own zone and skated into the BU end, cutting around a Terrier defender near the dot and backhanded a shot past O'Neil on her blocker side.
3rd, 11:45 - 4-3, BC GOAL | Belinskas was back deep on the forecheck and stole the puck off a BU defender at the end line. She curled inside and then beat O'Neil with an unassisted backhand just off the crease to give the Eagles their first lead of the game.
3rd, 19:26 5-3, BC GOAL (ENG) | With O'Neil pulled for the extra attacker, Capizzano pestered the defender at the blue line, finally poking it away enough to get a jump on the puck and a breakaway toward the open net. She got around the last defender and skated in for the empty-net score to seal the win.
GAME NOTES
- The win was Boston College's fifth straight against BU - the longest-ever streak by either team in the varsity series between the teams (2005-06 to present)
- The Eagles are now 24-16-5 all-time against the Terriers since BU ascended to varsity status
- Delaney Belinskas tallied her second multiple-goal game of the season and pushed her season total to seven goals, which shares the team lead with Caitrin Lonergan
- Lonergan recorded her third multiple-point game of the season, and extended her point streak to four games
- Belinskas and Lonergan now are both tied for the national freshman lead in goals with seven apiece ... Lonergan is ranked second overall nationally in freshman scoring (13 points)
- Kristyn Capizzano tallied her second multiple-point game of the season, and her first since a two-point (one goal, one assist) outing at New Hampshire on Oct. 14
- Capizzano's assist on Erin Connolly's goal was her 50th career assist ... she now has 84 career points
- Erin Connolly recorded her first career goal - and her first collegiate power-play goal - in the second period ... she now has a two-game point streak after collecting her first-career point (an assist) last Saturday against UConn
- Makenna Newkirk notched her sixth assist of the season on Lonergan's goal ... she now has eight points on the season and six points in the last four games
- Kenzie Kent picked up her 64th career assist on Connolly's goal ... it pushed her career point total to 87
- Caroline Ross picked up her second career assist, and her second assist in as many games after also recorded her first career point last Saturday against UConn
- Katie Burt's 33 saves were three shy of her career-best (36)
- For the third-straight game, the Eagles were without All-America defenseman Megan Keller, who is with the U.S. National Team for the Four Nations Cup, which is being played in Finland, Nov. 1-5 ... Keller is one of three collegians on the roster and the team's youngest player at the tournament ... she will miss tomorrow's contest, as well, but will be back next weekend for the UNH series
- Boston College converted on the power play in their ninth game of 11 this season
- The Eagles extended their NCAA-record home unbeaten streak to 57 games (55-0-2) dating back to Oct. 19, 2013
THREE STARS
1. Delaney Belinskas, BC
2. Sammy Davis, BU
3. Caitrin Lonergan, BC
TEAM RECORDS
Boston University (3-4-1, 2-4-0 HEA)
Boston College (7-2-2, 6-1-0 HEA)
UP NEXT
The Eagles and Terriers will return to the ice tomorrow, Saturday, Nov. 5, for a 3 p.m. faceoff at the Terriers' Walter Brown Arena in Boston.