Saturday, October 10, 2009
VERMONT SWEEPS UNION WITH 4-1 VICTORY
Peggy Wakeham posts two assists for Catamounts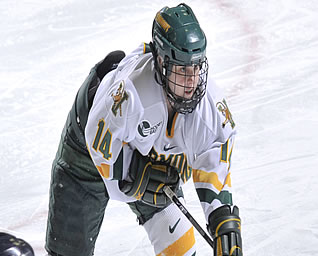 Peggy Wakeham had two assists for Vermont
BURLINGTON, Vt. - The University of Vermont women's hockey team remained undefeated in the 2009-10 season by defeating Union 4-1 on Saturday afternoon at Gutterson Fieldhouse.
The Catamounts had four different goal scorers lead the way, as they improved to 14-0 all-time against the Dutchwomen. It's also the second consecutive season UVM has opened out 2-0-0, defeating Union both times.
"It was a very good weekend for us," UVM head coach Tim Bothwell said. "It doesn't matter who you play, where you play or when you play, anytime you hold a team to nine shots on goal that is a good thing. It is an indication of the progress our defense has made."
Sophomore Chelsea Rapin (Walled Lake, Mich.) started the scoring for the Catamounts as she netted her second career goal with just 47 seconds remaining in the first period. Rapin found herself in front of the net after a Teddy Fortin (Brunswick, Maine) shot deflected to her stick. Rapin quickly beat Union's Alana Marcinko to make the game 1-0.
The Dutchwomen rebounded though in the second period when Jackie Koetteritz scored on a power play.
UVM quickly answered though, scoring just seven minutes later. This time it was senior captain Brittany Nelson (Shelburne, Vt.) finding the back of the net. It was the first power play goal of the season for the Catamounts as Nelson gave UVM a 2-1 lead.
Just over two minutes in the third period, sophomore Kailey Nash (Middletown, R.I.) scored in her second consecutive game, on yet another power play goal for Vermont. Junior Jul Sifers (New London, Conn.) got her name to the scoring book when she took a Lindsey Cashman (Milwaukee, Wisc.) rebound shot for the fourth UVM goal of the game.
The Catamounts return to action next weekend when they host No. 7 Clarkson at Gutterson Fieldhouse. It's a series Bothwell is looking forward to.
"We know we're going to have to get back at it again next weekend when we play Clarkson," Bothwell said. "But, I'm looking forward to it and I know the girls are too."
GAME NOTES: Nelson and Furlani participated in their 100th game for the Catamounts on Saturday. Nelson was awarded the first star of the game for her game-winning goal. Kristen Olychuck made eight saves for her second win of the season. Freshman Erin Wente made her UVM debut in the 4-1 win.