CATAMOUNTS PICK UP 2-0 SHUTOUT WIN OVER UNION
Kristen Olychuck registers shutout with 13 saves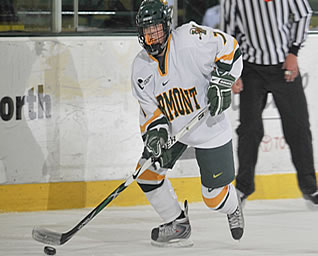 Kailey Nash scored the game-winner for Vermont
BURLINGTON, Vt. - The University of Vermont women's hockey team started the 2009-10 season off with a 2-0 victory over Union College on Friday night at Gutterson Fieldhouse.
First period goals by sophomore Kailey Nash (Middletown, R.I.) and junior Celeste Doucet (Memramcook, New Brunswick) gave the Catamounts their second consecutive season-opening win over the Dutchwomen.
Nash got UVM on the board 11 minutes into the game when she received the puck behind the back of the net and was able to shoot a wrap around and beat Union's Alana Marcinko for her second career goal.
The first period play by the Catamounts was exactly what UVM head coach Tim Bothwell was looking for.
"I liked the intensity we showed throughout the whole game, especially in the first period," Bothwell said. "We moved the puck smart and effectively for a large part of the game and the girls did a great job of moving the puck into the offensive zone."
While Bothwell was pleased about the offensive intensity showed by UVM, Doucet was a recipient of a good defensive play. The junior forward deflected a Union shot before finding herself on a breakaway against just Marcinko.
Doucet was able to deke the goalkeeper and sliding the puck into an open backside of the net.
"It was a good solid game," Bothwell said. "Union came out hard, but we responded well. The job doesn't get easier though. We have to come out and play just as well tomorrow because it's never easy to beat a team twice in a weekend."
Senior goalie Kristen Olychuck (Kelowana, British Columbia) made 13 saves to preserve the shutout.
The Catamounts faceoff against Union tomorrow at 4 p.m. at Gutterson Fieldhouse.
GAME NOTES: Vermont improves to 13-0 all-time against Union. The 2-0 win, was the third consecutive season-opening win for UVM. Doucet was named the first star of the game. Two freshman, Emily Walsh and Maggie Walsh made their debut for the Catamounts.