Friday, February 19, 2010
PROVIDENCE COLLEGE UPENDS VERMONT, 4-2
Junior forward Jean O'Neill scores two goals for Friars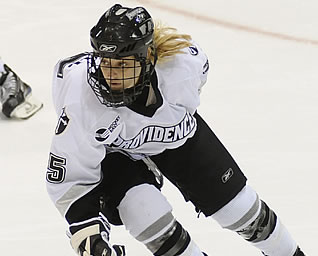 Jean O'Neill scored two goals for the Friars
BURLINGTON, Vt. - A Jean O'Neill goal 29 seconds after Vermont tied the game at 2-2 in the third period helped propel Providence to a 4-2 victory over Vermont in womenís hockey action Friday night at Gutterson Fieldhouse.
Vermont senior Chelsea Furlani (Colchester, Vt.) scored just 32 seconds into the third period to tie the game at 2-2. Furlani unleashed a slapshot from just inside the blue line on the power play for her 25th career goal as a Catamount. Furlani is now Vermontís Division I all-time leading goal scorer.
Providence's Nicole Anderson gave the Friars a 1-0 lead 11 minutes into the first period when she took a pass from Ashley Cottrell for a breakaway chance against Vermont goalie Kristen Olychuck (Kelowna, British Columbia). Anderson was able to fire a wrist shot over the stick of Olychuck for her 11th goal of the season.
Vermont's three freshmen skaters had a hand in tying the score 11 minutes into the second period. Maggie Walsh (Bloomfield, Conn.) found a streaking Emily Walsh (Suffield, Conn.), who was able to fire a quick shot against Providence goalie Genevieve Lacasse. The puck bounced off of Lacasse's pads and Erin Wente (Scottsdale, Ariz.) was able to corral the loose puck for her fifth goal of the season.
O'Neil scored her first goal of the game just two minutes after Wente scored. Providence junior Alyse Ruff added an insurance goal with just three minutes remaining in the game.
Olychuck made 16 saves in the losing effort for the Catamounts, who fall to 10-21-1, 5-14-1 Hockey East on the season, while Lacasse made 21 saves to help improve the Friars to 14-10-9 on the year and 10-5-5 in Hockey East.
The two schools will meet tomorrow (Feb. 20) at 4 p.m. The game will also be Senior Day for five Vermont seniors.