Saturday, October 24, 2009
VERMONT TOPPLED BY PRINCETON, 7-2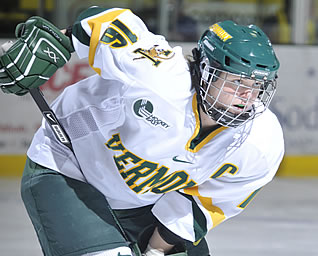 Brittany Nelson scored a goal for Vermont
BURLINGTON, Vt. - Princeton University defeated the Vermont Catamounts 7-2 in women's hockey on Saturday evening at Gutterson Fieldhouse.
The Tigers (1-1-0) came out of the locker room with a flurry of pressure as they outshot the Catamounts (4-2-0) 16-3 in the first period and 35-9 for the game.
However, it was Vermont that struck first on a power-play goal. Fifteen and a half minutes into the first period, sophomore Kailey Nash (Middletown, R.I.) gave UVM a 1-0 lead. Freshman Emily Walsh (Suffield, Conn.) was able to bring the puck down the right side of the ice before sending a cross-ice pass to a streaking Nash. Nash quickly fired the puck past Princeton's Rachel Weber for her fifth goal of the season.
Princeton quickly knotted the game back up less than three minutes later with its own power-play goal. Danielle DiCesare was able to beat Kristen Olychuck (Kelowna, British Columbia stick side for her second goal of the season.
The second period was a reversal of fortune for Vermont. In its previous two games - a 4-1 win over No. 4 Clarkson and 4-3 win over Princeton - Vermont outscored its opponents 6-0 in the second period. On Saturday however, Princeton used its own three-goal period to take control of the game. Heather Landry, Kelly Cooke and DiCesare all found the back of the net for the Tigers.
Senior co-captain Brittany Nelson (Shelburne, Vt.) did cut the Princeton lead to 4-2 when she recorded her third goal of the season with a minute and a half remaining in the second period. Nelson was able to rebound a Maggie Walsh (Bloomfield, Conn.) shot for Vermont's second power-play goal of the game.
The Tigers were then able to take advantage of two more power-play goals in a span of two minutes to in the third period to extend the lead to 6-2.
Olychuck made 28 saves in the losing effort, while both teams were nearly 50 percent on power-play opportunities. The Catamounts were 2-4 while the Tigers went 4-9.
Vermont returns to action next weekend when it hosts Northeastern in its Hockey East opener. The schools will play a two-game weekend series with the game on Friday scheduled for 7 p.m. and Saturday's slated for 4 p.m.