VERMONT HOLDS OFF PRINCETON, 4-3
Kailey Nash has three-point game for Catamounts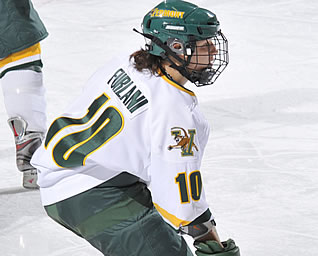 Chelsea Furlani had a goal and an assist for Vermont
BURLINGTON, Vt. - The University of Vermont defeated Princeton 4-3 in women's hockey on Friday night at Gutterson Fieldhouse.
It was Vermont's first win in school-history over the Tigers. Prior to Friday night Princeton defeated the Catamounts all nine times the two schools met. It was the second-consecutive game UVM has achieved that feat, as they beat Clarkson for the first time last Saturday evening.
"It's huge to get those first wins over schools like Clarkson and Princeton," UVM head coach Tim Bothwell said. "In my first three years here we've managed to beat good teams, but when you do it for a second time it sends a message. But, we're not satisfied enough, we want to go out and do it again."
UVM jumped out to an early 1-0 lead when sophomore Kailey Nash (Middletown, R.I.) found the back of the net just three minutes into the game. With the Catamounts on a two-man advantage senior captain Chelsea Furlani (Colchester, Vt.) skated up the left side of the ice before sending a pass to the back post. Nash, who was streaking toward the net was able to pick up the pass and beat Princeton's Cassie Seguin to the top shelf.
After Princeton tied the game in the first period behind a Melanie Wallace goal, the Catamounts responded with another power-play goal, just one minute into the second period. This time it was Furlani benefiting from the man-advantage as she rebounded a Nash shot and beat Seguin for her first goal of the season.
Then much like last Saturday, a freshman notched her first collegiate goal at a critical point. This time it was Maggie Walsh (Bloomfield, Conn.) recording her first career goal. However, it came in unique fashion as Walsh's wrap-around goal required a video review from the referees'.
"Maggie has been good for us this year playing with a lot of confidence," Bothwell said. "I'm very excited for her to score her first goal here at Vermont."
Senior co-captain Brittany Nelson (Shelburne, Vt.) scored the eventual game-winning goal with under six minutes left in the second period. Nelson took a pass from Saleah Morrison (Selkirk, Manitoba) behind the defense and was able to beat Seguin.
However, Princeton scored twice in the third period to cut it to 4-3 and then senior goalie Kristen Olychuck (Kelowna, British Columbia) was forced to make a great save to preserve the win. With three and a half minutes remaining in the game Princeton's Heather Landry was on a breakaway, when Olychuck was able to get her glove up quick enough to catch Landry's shot.
"It's just a huge win for us," Bothwell said. "It wasn't a pretty third period and Olychuck made tremendous saves to preserve the win for us. We are still seeing really good positive things and I love our energy and intensity."