Saturday, October 31, 2009
ESPOSITO, SCHELLING LEAD NU TO WEEKEND SWEEP AT VERMONT, 1-0
NU's Brittany Esposito scores shorthanded goal; Florence Schelling posts second consecutive shutout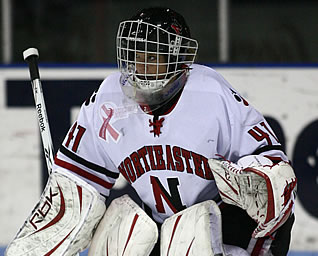 Florence Schelling stopped 15 shots for the Huskies
BURLINGTON, Vt. - Brittany Esposito's shorthanded goal with less than seven minutes remaining gave Northeastern a 1-0 victory over the University of Vermont in women's hockey action on Saturday evening at Gutterson Fieldhouse.
Esposito corralled a loose puck in Northeastern's zone and split two Vermont defenders to get herself one-on-one with Vermont goalie Kristen Olychuck (Kelowna, British Columbia). Esposito quickly moved the puck from her backhand to her forehand and rifled the shot past Olychuck's glove side.
Northeastern goalie Florence Schelling shut the Catamounts out for the second consecutive game as she made 15 saves to preserve the win while Olychuck made 26 saves in the losing effort.
UVM excelled again on the penalty kill as they shut down all five power plays for the Huskies. They had a perfect penalty kill for the weekend as they turned away all nine Northeastern power plays.
"We worked on special teams a lot this week," UVM senior co-captain Chelsea Furlani (Colchester, Vt.) said. "But, their goalie was good. She's real good. We didn't allow them to score on their power plays, but we still need to get better and we will."
Vermont falls to 4-4-0 on the season and 0-2-0 in Hockey East while Northeastern improves to 7-1-1 and 3-0-1-1 in Hockey East games.
The Catamounts return to action on Friday, November 6 when they travel to Boston College for a weekend series. The game on Friday is scheduled for 7 p.m., while Saturday is slated for 4 p.m.