Saturday, October 10, 2009
NORTHEASTERN SHUTS OUT ROBERT MORRIS, 4-0
Florence Schelling makes 30 saves to post shutout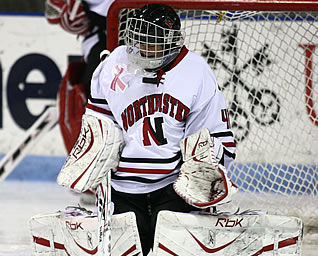 Florence Schelling made 30 saves for the Huskies
The Northeastern Huskies (2-0-1, 0-0-1-1 Hockey East) blanked the Robert Morris Colonials (1-3-0, 0-0-0 CHA) by a score of 4-0 on Saturday afternoon at Matthews Arena. Sophomore goaltender Florence Schelling made 30 saves in the shutout, lowering her GAA to a sparkling 0.66 on the season. Junior Alyssa Wohlfeiler recorded a goal and two assists in the game for NU, who defeated the Colonials for the first time in program history.
Northeastern used a three-goal first period to jump on the visiting Colonials, who were playing their second game in as many days. Junior Lori Antflick provided the first goal of the game just over seven minutes in. Freshman Siena Falino slid a backhand no-look pass from behind the net to Antlfick in the high slot, who deked around a defender and then the goalie for her first tally of the season.
Only 51 seconds later, Wohlfeiler doubled the Northeastern lead with her second goal of the 2009-10 campaign. Following a faceoff win by freshman Brittany Esposito, senior tri-captain Annie Hogan jumped on a loose puck and centered it for Wohlfeiler, who made no mistake from four feet out.
The offensive onslaught continued as NU built a 3-0 lead at the 10:13 mark of the first period. Sophomore defenseman Stephanie Gavronsky wristed the puck into the top right corner of the cage from a difficult angle, beating RMU keeper Kristen DiCiocco, who was making her first collegiate start.
Schelling came up huge at the end of the period, flashing the glove on a quick wrister from RMU junior Whitney Pappas.
Northeastern junior Kristi Kehoe added a fourth goal in the second period, extending her points streak to three games to start this season. Senior Kasey Cedorchuk and Wohlfeiler earned assists on the goal, which came on the man-advantage at 7:25 of the frame.
The Colonials threw 14 pucks at the net in the third period, but Schelling proved up to the task. The Huskies' keeper made a beautiful save off a rebound late in the game, stoning RMU freshman Cobina Delaney on the doorstep.
The Huskies return to Hockey East action on Tuesday, Oct. 13 when they travel to Boston College at 7 p.m.