Saturday, October 17, 2009
NORTHEASTERN NIPPED BY QUINNIPIAC, 1-0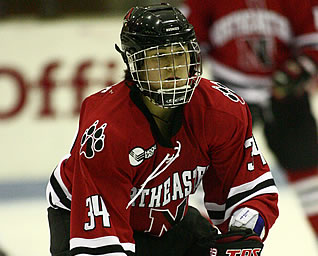 Kristi Kehoe had two shots in the game for NU
BOSTON, Mass. - The Northeastern Huskies (3-1-1) dropped their first game of the 2009-10 season on Saturday afternoon, 1-0 at the hands of Quinnipiac (2-1-1) at Matthews Arena. Quinnipiac scored just 25 seconds into the game and held on from there, riding a 22-save performance from freshman goaltender Victoria Vigilanti.
Quinnipiac freshman Heather Hughes cashed in on a two-on-one break in the game's first minute, wristing the puck over the glove of Huskies' keeper Florence Schelling. Senior Melissa Perry initiated the rush by breaking up a pass in the defensive zone, and chipping it up the boards to sophomore Kate Wheeler. Wheeler placed the puck perfectly on the tape of Hughes for her first collegiate goal.
The Huskies nearly grabbed one back three minutes later. Senior tri-captain Katy Applin poked the puck toward the goal from the side of the net, but was denied by Vigilanti, who dove across the goal line to freeze the shot.
Schelling matched her counterpart early in the second period, kicking away a tricky backhand attempt by sophomore Chelsea Illchuk on a Quinnipiac power play. The Swiss native then made a huge stop on Kristen Eklund with eight minutes left in the frame, sliding post-to-post to kick away what looked like a sure goal.
Despite five power play opportunities, the Huskies were unable to manage an equalizer, as Vigilanti pitched her first collegiate shutout. Northeastern mustered 22 shots for the game, while Quinnipiac totaled 19.
The Huskies return to the ice for a pair of home games against Bemidji State on Oct. 23-24. Friday's match will be staged at Matthews Arena at 7 p.m., while Saturday's game will be held at UMass Boston's Clark Athletic Center at 2 p.m.