MAINE NOTCHES 4-1 WIN AGAINST VERMONT
Taryn Peacock and Jenna Ouellette each post multi-point efforts for Black Bears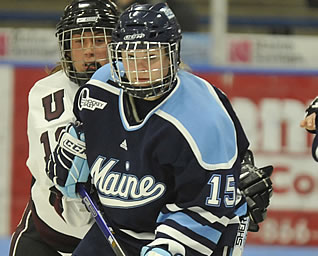 Taryn Peacock had two goals and an assist for Maine
ORONO, Maine - Jenna Ouellette (Winnipeg, Manitoba) dished out four assists as the University of Maine women's ice hockey team skated past Vermont 4-1 on Friday afternoon at Alfond Arena in Orono, Maine. The Black Bears improve to 4-9-5 on the season and 2-5-3-1 in Hockey East play. They extend their unbeaten streak to five games. Vermont falls to 5-9-1 on the season and 1-6-1 in Hockey East play.
Maine struck first at 7:59 of the first period when Dawn Sullivan (Enfield, Nova Scotia) scored on a rebound of a Taryn Peacock (Calgary, Alberta) shot from her knees from the face-off circle. For Sullivan, it was her first goal of the season. Jenna Ouellette (Winnipeg, Manitoba) also assisted on the goal. The Black Bears extended their lead to 2-0 with a power play goal at 19:04. Goalie Brittany Ott (St. Clair Shores, Mich.) fired the puck up to Ouellette. Ouellette was able to find Lexie Hoffmeyer (Grand Blanc, Mich.) who made an impressive move to elude her defender and beat Vermont goalie Kristen Olychuck.
Vermont pulled to within one goal 5:14 into the second period. Brittany Nelson had a shot that Ott stopped, but the rebound went right to Chelsea Furlani who was able to shoot the puck into the back of the net from the slot. For Furlani, it was her fourth goal of the season.
Maine regained its two-goal lead just 15 seconds later. Ouellette redirected the puck to a wide-open Peacock who broke in alone on Olychuck. Peacock was able to beat Olychuck for her sixth goal of the season. Jessica Bond (Namur, Quebec) also assisted on the play.
Maine extended its lead to 4-1 late in the third period when Peacock redirected a Hoffmeyer shot from the blueline. Ouellette picked up her fourth assist of the game on the goal. For Peacock, it was her seventh goal of the season.
Maine goalie Ott made 31 saves in the game. She improves to 3-4-3 on the season. Kristen Olychuck made 20 saves for the Catamounts. She falls to 5-9-1.
Vermont finished the game with a 32-24 edge in shots on goal. Maine held the Catamounts scoreless on seven power play chances, including a pair of lengthy five-on-threes. The Black Bears were 1-for-4 on the power play.
The two teams return to action on Saturday, Dec. 5 at Alfond Arena. Puck drop is scheduled for 2 PM.