Saturday, January 30, 2010
NEW HAMPSHIRE NOTCHES 3-1 WIN AGAINST MAINE
Three different players tally goals for Wildcats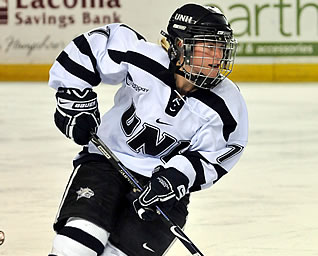 Kelly Paton had a goal a for the Wildcats
ORONO, Maine - The University of Maine women's ice hockey team fell to #4/5 New Hampshire by the score of 3-1 on Saturday evening at the Alfond Arena. Brittany Ott (St. Clair) played well in net while Jennie Gallo (Castlegar, British Columbia) notched her seventh goal of the season for the Black Bears.
The Wildcats got on the scoreboard first when Kristina Lavoie received a down ice pass from Raylen Dziengelewski. Lavoie skated in on Ott and beat her with a wrist shot.
New Hampshire would extended their lead to 2-0 when Kristine Horn scored her seventh goal of the season with the Wildcats skating on the power play with just three seconds remaining in the first period.
The Black Bears would have a great chance when they broke out on a 3-on-1 advantage with four minutes remaining in the second period. Dawn Sullivan headed the pack and carried the puck in on Wildcat goaltender Lindsey Minton. Sullivan fired a shot but Minton got down into the butterfly and made the save to keep the game at 2-0 heading into the third period.
The Wildcats would go up 3-0 when senior captain Kelly Paton picked up the puck in the neutral zone. Paton skated in on Ott and put a couple moves on her before depositing the puck into the back of the net. Katie Brock assisted on the play for New Hampshire.
The Black Bears would pull Ott at the 5:59 mark and skate with a 6-5 advantage for the next three minutes. However, Minton would make some key saves to keep the Black Bears at bay.
The Black Bears went on a power play and would cut into the lead with 45 seconds left in the game when Gallo tipped in a shot from Lexie Hoffmeyer (Grand Blanc, Mich.). It was Hoffmeyer's 13th assist of the season. of the season. Jenna Ouellette (Winnipeg, Manitoba) also assisted on the goal and her 16th on the season.
The Black Bears continued to attack, but could not knock in another as the Wildcats withstood the pressure.
Ott finished with 33 saves while Minton had 20.
The Black Bears will continue WHE play Saturday, Feb. 6 when they travel to take on the Vermont Catamounts with a 2 p.m. puck drop scheduled.