Saturday, October 24, 2009
MAINE EDGED BY ROBERT MORRIS IN OVERTIME, 1-0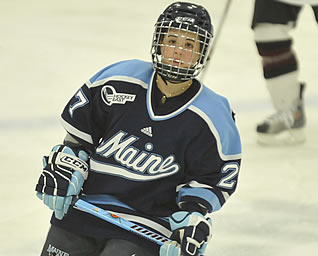 Myriam Croussette had three shots in the game for Maine
ORONO, Maine - The University of Maine women's ice hockey team dropped a tough 1-0 decision to Robert Morris in overtime at their "Skating Strides Against Breast Cancer" game on Saturday afternoon. The loss drops the Black Bears to 2-6-1 on the year while Robert Morris improves to 3-5-0.
The two teams battled back and forth as the first period was very evenly played. The Colonials out shot Maine by a slim 10-8 margin. With 30 seconds remaining in the period, Robert Morris freshman Jennifer Kindret gathered the puck at the red line and skated in all alone on Maine goaltender Brittany Ott (St. Clair Shores, Mich.). Kindret put a move on Ott but the Maine goaltender was able to make a beautiful pad save to send the game into the first intermission scoreless.
The Black Bears had their chances in the second period as Robert Morris took two penalties that gave Maine the advantage in numbers. Maine put heavy pressure on Colonial goaltender Daneca Butterfield as they out shot Robert Morris 17-8 in the second period but the game would stay knotted at zeros to enter the third period.
Maine came out firing in the third period, out shooting Robert Morris 17-9, including Myriam Croussette (Baie-Comeau, Quebec) and Jordan Colliton (Blackie, Alberta) both skating in and forcing Butterfield to make some very tough saves. The Colonials crashed the net on a puck that was thrown on Ott and scored, only to have the goal erased because of a skate in the crease.
The game would need extra time to finish as Robert Morris would pick up the win just 44 seconds into overtime when Kelsey Thomas got her first career goal off a feed from Sara O'Malley for the game winner.
Ott was solid in net for the Black Bears as she made several high percentage saves and a total of 17 saves in the contest. Butterfield ended the game with 29 saves. The Black Bears out shot Robert Morris 29-18.
Maine returns to the ice Sunday, Nov. 1 at 3 p.m. as they travel to Durham, N.H. to take on the University of New Hampshire in Hockey East action.