Sunday, November 15, 2009
OTT, BLACK BEARS SHUT OUT NORTHEASTERN, 1-0
Brittany Ott earns shutout with 34 saves for Black Bears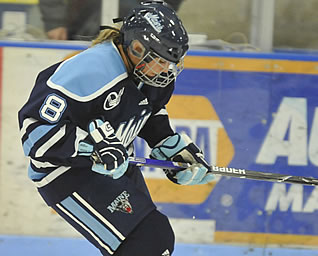 Jenna Ouellette notched the game-winner for Maine
The No. 9 Northeastern Huskies (8-2-2, 4-1-2-1 Hockey East) dropped a hard-fought decision at the hands of the Maine Black Bears (3-9-2, 1-5-2-1 Hockey East) on Sunday, 1-0 at Matthews Arena. The loss snapped the Huskies' six-game unbeaten streak. Sophomore goaltender Florence Schelling turned in another impressive performance with 35 saves.
The iron was unkind to the Huskies all game as freshman Brittany Esposito and sophomore Stephanie Gavronsky both struck the post behind Maine goaltender Brittany Ott. The two shots were the only attempts to fool Ott on the day, as the freshman pitched her first collegiate shutout and earned her first victory since Sept. 26.
Jenna Ouelette scored the game's only goal on a scrum at the side of the Husky net in the second period. Schelling stopped Jessica Bond's slap shot from the point, and then robbed Taryn Peacock twice on the doorstep. The Huskies' netminder appeared to have the puck covered, but Ouelette jammed her stick into Schelling's pads to force the puck across the line to break the deadlock at 5:55 of the frame.
Junior Kristi Kehoe and senior Katy Applin each had five shots for the Huskies, who were outshot as a team for the third straight game.
Northeastern returns to action on Friday, Nov. 20 at Providence at 7 p.m.