Saturday, October 10, 2009
BLACK BEARS EDGED BY MINNESOTA STATE, 2-1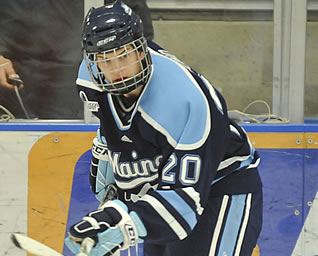 Jessica Bond scored the Maine goal
ORONO, Maine - The University of Maine women's ice hockey team dropped a 2-1 battle to Minnesota-State Mankato Saturday afternoon at Alfond Arena. The Black Bears record slips to 2-3-0 on the season while Minnesota State picks up its second win of the year. Maine was led by sophomore Jessica Bond (Namur, Quebec) who had the lone goal for the Black Bears.
Minnesota State opened up the scoring 9:48 into the first period when Emmi Leinonen scored. Leinonen got the feed from Jackie Otto from the right corner as she was streaking towards the net and scored her first goal of the season to put the Mavericks up 1-0.
After an uneventful second period that included no scoring, Leionen would strike again for the Mavericks as she scored her second goal of the game and the first power play goal of the afternoon. Amy Udvig and Holly Snyder assisted on the goal that was scored from the point by Leinonen.
The Black Bears would battle back when as Jessica Bond lit the lamp 14:05 into the third period. Maine won the draw in their own end as Jennie Gallo (Castlegar, British Columbia) shuffled a pass to Bond who deposited the puck into the back of the net for her first goal of the season. After some back and forth action, the Mavericks would escape with the one goal victory.
Candice Currier (Goffstown, N.H.) was solid in net for the Black Bears, making 41 saves on the afternoon but taking the hard 2-1 loss and dropping to 1-2-0 on the season. Altmann saved 18 shots for the Mavericks and improves to 2-0-0. The Mavericks out shot Maine 43-19.
The Black Bears return to the ice next weekend when they travel to Boston College for a 2 p.m. match up on Sunday, Oct. 18.