VERMONT FALLS TO MCGILL, 2-1, IN OVERTIME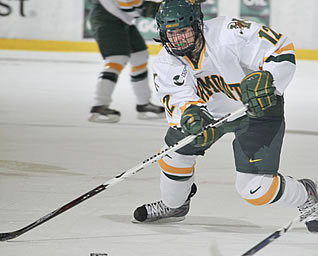 Celeste Doucet scored the Catamount goal
BURLINGTON, Vt. - Cathy Chartrand scored with two and a half minutes left in overtime to give McGill a 2-1 victory over Vermont in women's hockey action at Gutterson Fieldhouse on Sunday evening. The Martlets are the two-time defending Canadian Interuniversity Sport champions, improved to 3-0 against Hockey East teams this preseason.
Chartrand was able to lace a slap shot past Kristen Olychuck (Kelowna, British Columbia) after Vanessa Davidson found her open on the left side of the ice.
Junior Celeste Doucet (Memramcook, New Brunswick) scored ten minutes into the first period. The assistant captain was able to take a long pass from junior Hannah Westbrook (Laramie, Wyom.) to beat McGill's goalie glove side.
The Martlets were able to bounce back however in the second period when Ann-Sophie Bettez tied the game up with a power-play goal nine and a half minutes remaining in the second period.
The Catamounts seemed to take control of the game in the third period by outshooting McGill 13-3, something that UVM head coach Tim Bothwell was proud of.
"I loved the way we played in the third period against a very good team," Bothwell said. "In the past we might have been hesitant, but we went after them. It's just a shame we couldn't find a way to win. I was impressed and proud of our effort and it was a good, solid way to start the year."
UVM outshot McGill 28-24 in the game and Olychuck made 22 saves for Vermont.
The Catamounts return to action this weekend when they host Union in a two-game series. The first game will be at 7 p.m. on Friday, October 9, and the second game will be at 4 p.m. on Saturday, October 10.
NOTES: Three freshman made their debut tonight: Emily Walsh, Erin Wente and Maggie Walsh. Emily Walsh won eight out of nine faceoff. Celeste Doucet had a team-high five shots.