CONNECTICUT TOPPLES SYRACUSE, 3-2
Brittany Murphy finishes with a goal and an assist for Huskies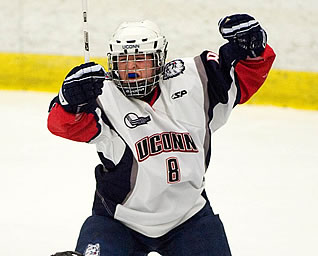 Brittany Murphy had a goal and an assist for the Huskies
STORRS, Conn. - In its home opener on Friday night, the University of Connecticut women's ice hockey team surpassed Syracuse, 3-2 at Mark Edward Freitas Ice Forum. The win gives the Huskies a 2-2-1 record while the Orange are left searching for their first win of the season at 0-4-1.
Junior Brittany Murphy (Tewksbury, Mass.) scored the eventual gamewinner with an assist from classmate Lauren LeMond (Vista, Calif.) to put UConn ahead 3-0 at 18:01 of the second period. LeMond scored the first goal of the game with less than five minutes remaining in the first stanza. Freshman Maude Blain (Magog, Que.) and Murphy had the assists on the 1-0 Husky goal.
At 15:13 in the second period, senior Michelle Binning (Oshawa, Ont.) tallied her first of the season giving the Huskies a 2-0 advantage over Syracuse. Binning's goal was assisted by classmate Cristin Allen (Pickering, Ont.) and reigning Hockey East Freshman of the Week Elisabeth Stathopulos (Toronto, Ont.).
The Orange got on the board with less than minute of play remaining in the second period as Janelle Malcolm scored her third of the season to put Syracuse on the board, trailing 3-1. Isabel Menard and Lisa Mullan had the assists on the Orange's first goal of the night.
UConn held Syracuse to a mere five shots on goal in the third period while the Huskies were able to get eight away in the final 20 minutes of play. One of those Orange shots got past senior Jennie Bellonio (Guilford, Conn.) four and half minutes into the final period of play. Julie Rising cut the Syracuse deficit to a single goal (3-2). Stefanie Marty and Brittaney Maschmeyer had the assists.
The Huskies allowed just three Orange shots during a Syracuse power play to maintain the 3-2 advantage. Syracuse was 1-for-6 on the power play with Malcolm's goal coming on the man advantage. UConn was held scoreless in four power play opportunities.
Bellonio (1-0-0) earns the win in her first start of the season while Syracuse's Lucy Schoedel is 0-4-1 between the pipes thus far.
UConn (2-2-1, 0-1-1-0) hosts Colgate in its second-consecutive home game on Saturday at 4 p.m. The Huskies have won each of the last three meetings with the Raiders and look to extend that streak at Freitas Ice Forum.