CONNECTICUT TOPPLES MAINE, 4-1
Freshman Kelly Horan scores two goals for Huskies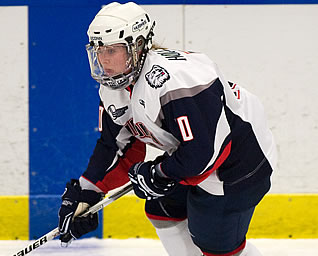 Amy Hollstein picked up a goal for the Huskies
STORRS, Conn. - Freshman Kelly Horan (Methuen, Mass.) scored twice in the No. 8/9 University of Connecticut women's ice hockey team's 4-1 victory over Maine on Friday night. Horan contributed the second and final UConn goals of the game at Mark Edward Freitas Ice Forum. Senior Michelle Binning (Oshawa, Ont.) extended her scoring streak with her game-best 16th of the season while Horan was one of three players to finish the contest with two points.
Junior Jennifer Chaisson (Cumberland, Ont.) had a pair of assists and freshman Elisabeth Stathopulos (Toronto, Ont.) had an assist on each of Horan's goals against the Black Bears.
The Huskies (14-6-5, 5-3-4-1) jumped out to a 2-0 advantage in the first period with two goals from freshmen. Maude Blain (Magog, Que.) scored the second of her career at 16:58 with an assist from Chaisson. Less than two minutes later, senior Cristin Allen (Pickering, Ont.) and Stathopulos aided Horan's first goal of the game. UConn went into the first intermission with a two-goal edge.
Maine cut the lead by one with a power-play goal from Lexie Hoffmeyer at 6:12 of the second period with assists from Taryn Peacock and Dominque Goutsis.
Senior Amy Hollstein (Pembroke, Mass.) and sophomore Monique Weber (Rogers, Minn.) assisted Binning's sixth power-play goal of the season. In addition to extending her scoring streak, Binning increased the Huskies' lead over the Black Bears, 3-1.
UConn out-shot Maine 14-8 in the second period alone and skated away with a 29-13 edge in the game.
Chaisson and Stathopulos had the assists on Horan's second goal of the game and fifth of the season. The Huskies secured the Hockey East victory by a 4-1 margin and extended their unbeaten streak to seven games.
Sophomore Alexandra Garcia (Pointe-Claire, Que.) made 12 saves in the game, including seven in the second period during which UConn denied Maine a goal in a 5-on-3 power-play situation. Garcia is now 11-5-5 between the pipes. Candice Currier suffered her seventh loss in the crease for the Black Bears (6-12-5, 3-7-3-1), turning aside 25 shots.
UConn hosts Maine once again on Saturday at 4 p.m. for the team's Skating Strides Against Breast Cancer game. Those in attendance will be able to donate a minimum of $3 for a water bottle and $5 for a t-shirt. In addition, fans will be able to bid on a wide array of UConn merchandise in an auction prior to the third period to help the team fundraise. The auction features several autographed items from both the men's and women's basketball teams.
Games Notes
- Freshman Kelly Horan has scored in two of the last three games, Friday night was her first two-goal game and her first gamewinner. Her career high for points in a single game is three at Yale on Nov. 28, 2009. Horan had three assists in the Huskies' Nutmeg Classic Championship game.
- In addition to extending her scoring streak, senior Michelle Binning has scored a power-play goal in two of the last three games.
- Sophomore Alexandra Garcia and the UConn defense has held its opponents to one goal in each of the last three games, all against Hockey East opponents.