Friday, September 25, 2009
CONNECTICUT ROLLS PAST DAWSON COLLEGE, 6-0
Four different Huskies post goal and assist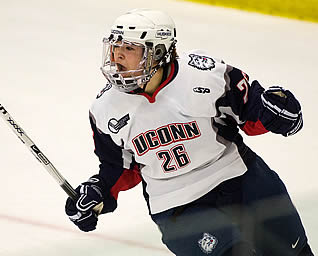 Monique Weber had a goal and an assist for the Huskies
STORRS, Conn. - Using six different goal scorers, the University of Connecticut women's ice hockey team dominated Dawson College 6-0 in its lone exhibition game of the season. Freshman Kelly Horan (Methuen, Mass.) scored the first goal of the game just five minutes into the first period and UConn maintained offensive pressure outshooting the Blues.
The Huskies put three on the board in the first 20 minutes. Horan got things started at 5:01 with the first goal of the game and of her career with assists by junior Jennifer Chaisson (Cumberland, Ont.) and sophomore Monique Weber (Rogers, Minn.).
Horan cleared the puck with a pass to sophomore Rebecca Hewett (Oak Bluff, Man.) who sent a quick cross-ice pass to classmate Sami Evelyn (Nepean, Ont.) who blasted a shot from the blue line past Dawson goaltender Joanie Plamondon at 18:08.
Evelyn started another play just a minute later as she was coming off of the ice with a pass up the ice where freshman Elisabeth Stathopulous (Toronto, Ont.) sent the puck to senior Michelle Binning (Oshawa, Ont.). Binning's initial shot was saved, but the assistant captain corralled the rejection and tapped it in for UConn's third goal of the game.
Weber came out of the box after an interference call and gathered the puck from the UConn's zone in the second period. She streaked up the ice evading Blues' defenders to score an unassisted goal to put the Huskies up 4-0.
Stathopulous scored at 11:26 in the third period to increase the Huskies' lead and score on Dawson's Melanie Fournier who took over in second period. Hewett and Evelyn had the assists on the freshmen forwards first goal of her career.
Less than two minutes later, UConn added another with junior Jessica Lutz (Rockville, Md.) scoring at 12:48 with an assists from freshman Maude Blain (Magog, Que.) to give the game its final 6-0 score.
The Huskies recorded the shutout with some great goaltending from both sophomore Alexandra Garcia (Pointe-Claire, Que.) and senior Jennie Bellonio (Guilford, Conn.) who tallied 14 combined saves.
UConn dominated Dawson in the shots column recording an outstanding 67 shots on goal, while the Blues only managed the 14.
The Huskies begin their regular season at New Hampshire on Saturday, Oct. 7 at 2 p.m.