Saturday, October 17, 2009
VERMONT NOTCHES 4-1 WIN OVER CLARKSON
Kristen Olychuck posts 26 saves for Catamounts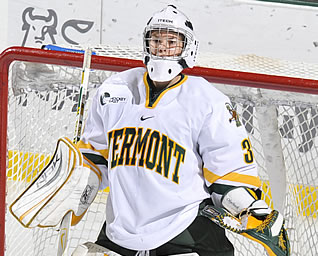 Kristen Olychuck made 26 saves for the Catamounts
BURLINGTON, Vt. - The University of Vermont women's hockey team defeated the No. 4 Clarkson Golden Knights 4-1 on Saturday evening at Gutterson Fieldhouse.
The win against the No. 4 team in the country marks the highest ranked team the Catamounts have defeated as well as the first victory over Clarkson in school history.
After falling behind 1-0 less than two minutes into the game, the Catamounts used a dominating second period to defeat the Golden Knights. Saleah Morrison (Selkirk, Manitoba) tied the game up with her first goal on the season seven minutes into the second period.
After going 0-6 on the power play on Friday night, the Catamounts reversed their fortune with two power play goals in the second period.
Sophomore Kailey Nash (Middletown, R.I.), who was recently named the Pure Hockey Player of the Week in Hockey East, gave UVM the go-ahead goal just nine minutes after Morrison's goal when she fielded a rebound and found the back of the net for the third time this season.
Then freshman Emily Walsh (Suffield, Conn.) scored her first collegiate goal with less than a minute remaining in the period. Walsh, much like Nash, collected a rebounded shot and buried it past Clarkson's Lauren Dahm.
The come-from-behind victory and effort shown by UVM had head coach Tim Bothwell searching for words following the game.
"I just can't put into words how impressed I am with the effort and determination we played with," Bothwell said. "Clarkson is a very good team and they were out for bear the first 10 minutes of the game. It's definitely a win we donít want the girls to forget about though, it just showed the toughness the girls have to come from behind against Clarkson."
Junior Celeste Doucet (Memramcook, New Brunswick) added an insurance goal late in the third period when she fired a shot from half-ice into an empty net. It was the junior's second goal of the season.
The win moves UVM to 3-1-0 on the season, while Clarkson drops to 4-1-1.
The Catamounts will host Princeton in a two-game series next weekend with Friday's game slated for 7 p.m. and Friday's scheduled for 4 p.m.