PROVIDENCE SKATES PAST COLGATE, 4-1
Alyse Ruff posts goal and assist for Friars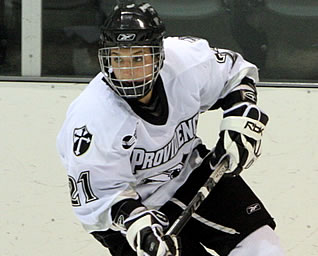 Alyse Ruff had a goal and an assist for Providence
PROVIDENCE, R.I. - Three second-period goals lifted the Providence College women's ice hockey team to a 4-1 victory over Colgate in Schneider Arena on Friday, October 16. Freshman Jessica Cohen (Anchorage, Alaska) put home her second game-winning goal of the season while sophomore goaltender Genevieve Lacasse (Scarborough, Ontario) made 30 saves to lead Providence. The Friars improve to 3-1-1 (2-0-0 HE) on the season while Colgate falls to 0-3-0.
After a scoreless first period, Providence came out for the second and pressed the action, outshooting the Red Raiders 17-9. Sophomore Abby Gauthier opened the scoring at 4:30. During a scramble for the puck in the slot, sophomore Kate Bacon (Chanhassen, Minn.) was able to poke the loose puck to Gauthier on the left side of the net. Gauthier made no mistake in front of the net and went five-hole for her first goal of the season. Senior Colleen Martin (Woburn, Mass.) earned her first assist of the season on the play as well.
The Friars would double their lead at 12:56 when Cohen slammed home a deflected shot for her second tally of the season. Junior Alyse Ruff (Tualatin, Ore.) sent a cross ice pass to classmate Amber Yung (Rockville, Va.) at the right point who fired a one-timer towards the net. Her shot was deflected right to Cohen who put in the eventual game winner.
Providence earned a power-play at 19:43 and with only two seconds remaining, PC added insurance tally as sophomore Ashley Cottrell (Sterling Heights, Mich.) sent a face-off to her right directly to Anderson who wristed a shot into the upper left corner of the net for her first collegiate goal. The assist was Cottrell's second of the season. She now leads the team with six points (four goals and two assists). The period ended with Providence ahead, 3-0, with a 22-17 edge in shots.
Colgate's Katie Stewart would close the gap to two with an unassisted power-play goal just 1:51 into the third, but that's as close as the Red Raiders would get. Providence finished the scoring with an Alyse Ruff power-play goal at 13:31. Yung sent a slap-pass through the slot to junior Jean O'Neill (Strafford, Pa.) on the right side of the cage. O'Neill's shot was saved, but Ruff was there to lift the rebound over the outstretched blocker of Colgate goalie Lisa Plenderleith. The goal was Ruff's first of the season while O'Neill and Yung earned their fourth and third assists on the season, respectively.
Providence will turn around and welcome the Syracuse Orange to Schneider Arena on Saturday at 4:00 p.m. For a non-conference game. This will mark the first ever meeting between the two programs.