Saturday, October 17, 2009
KOHANCHUK LEADS TERRIERS PAST WAYNE STATE, 4-0
Jenelle Kohanchuk scores all four goals for Boston University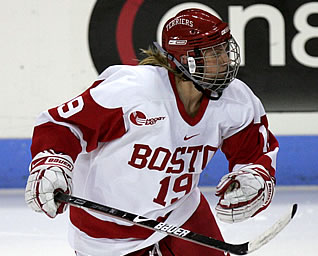 Jenelle Kohanchuk scored all four goals for BU
DETROIT, Mich. - Sophomore forward Jenelle Kohanchuk recorded the first four-goal game in program history as the Boston University women's ice hockey team collected their first regulation win, 4-2, over Wayne State at the City Sports Center on Saturday. The four-goal game is Kohanchuk's first with more than two goals in her BU career and just the fourth time in program history a single player has netted three or more scores in a game.
The win puts the Terriers at 2-0-3 on the year while Wayne State slips to 0-2-2 on the season.
The Terriers made a strong statement early, jumping out to a 1-0 lead just 16 seconds into the game. BU's front line charged into the Warrior zone, Melissa Anderson brought the puck towards the net from the right point and found Jenelle Kohanchuk who backhanded home the shot. Kohanchuk put the Terriers out in front 2-0 in the first part of the second stanza, collecting her own rebound and beating Wayne State goalie Lindsey Park outside of her left blocker.
Wayne State responded quickly with its first goal of the game as Alyssa Baldin got the Warriors on the board just nine seconds after Kohanchuk's second. An interference penalty midway through the second stanza put the Warriors on a power play and the hosts converted their third power-play goal of the weekend at 9:55 to knot the score at two-apiece.
With 4:40 remaining in the second stanza, Tara Watchorn collected the puck deep in the Wayne State zone and found Kohanchuk with some space near the net and the sophomore stuffed home the puck for her first career hat-trick. Breakaway attempts from Jill Cardella and Jillian Kirchner were turned away late in the period, but the Terriers ended the second with a 3-2 lead.
The momentum from a solid second period carried over to the third, where Kohanchuk deposited her fourth tally of the game. Slick passing in power-play formation from the Terriers enabled Kohanchuk to sneak in on the goalie's weak side and Jonnie Bloemers fed her from the goaline for her fourth goal of the game.
BU is back on the road next weekend as it takes on St. Lawrence on Friday, Oct. 23 and Clarkson the day after. The St. Lawrence game is slated for 7 p.m. while Clarkson will be a 3 p.m. matchup.