WAKEHAM LEADS VERMONT PAST BOSTON UNIVERSITY IN OVERTIME, 2-1
Peggy Wakeham scores 42 seconds into overtime for Catamounts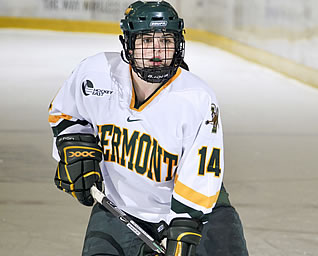 Peggy Wakeham scored the game-winner for Vermont
BURLINGTON, Vt. - Peggy Wakeham (Bay Roberts, Newfoundland) scored a power-play goal 42 seconds into overtime to give the University of Vermont a 2-1 victory over Boston U on Friday night at Gutterson Fieldhouse.
"It was a great game for us against a very good team," UVM head coach Tim Bothwell said. "I was very proud of our effort throughout the whole game. The trick for us now is to do it again tomorrow, because you know they will be extra ready tomorrow and it will be a great challenge for us."
Wakeham was able to drive hard down the right side of the ice before firing a shot at the net. Boston U's Melissa Haber was able to make the save but the puck deflected back to Wakeham. As Wakeham was falling to the ice she was able to flick her stick at the puck and bounced it off a Boston U defender before finding the back of the net.
Senior Jackie Thode (Aurora, Colo.) gave the Catamounts a 1-0 lead four minutes into the second period with her first goal of the season. Thode was able to rebound a Melanie Greene (Queensbury, N.Y.) shot to beat Haber as Haber fell to the ice.
The Terriers tied the game up 12 minutes later when Melissa Anderson intercepted a pass in the UVM zone and was able to beat UVM goalie Kristen Olychuck (Kelowna, British Columbia) for her 11th goal of the season.
Olychuck proved to be tough the rest of the game though as she made 23 saves to preserve the win. Haber made 16 saves in a losing effort for the Terriers.
The Catamounts improve to 7-16-1 overall and 2-9-1 in Hockey East action while the loss drops the Terriers to 9-7-8 and 5-5-3 in Hockey East games this season.
The two teams will finish their two-game series tomorrow at 4 p.m. at Gutterson Fieldhouse.
GAME NOTES: Three Stars: 1) Peggy Wakeham (UVM) 2) Jackie Thode (UVM) 3) Melissa Anderson (BU), Tonight's game was part of Hockey East's Skating Strides Against Breast Cancer. Check www.uvmathletics.com later for video highlights and pictures from tonight's game.