BOSTON UNIVERSITY SHUTS OUT NEW HAMPSHIRE, 4-0 IN SECOND WHEA SEMIFINAL
~Terriers appears in first WHEA Championship Game in school history~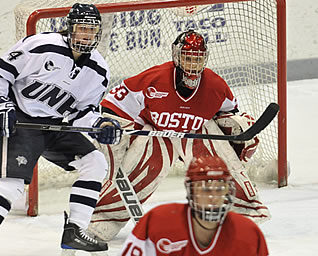 Melissa Haber made 17 saves for the Terriers
WAKEFIELD, Mass. -- On the strength of two shorthanded goals, the third-ranked Boston University Terriers knocked off second-seed New Hampshire, 4-0, in the Hockey East Semifinals at Schneider Arena on Saturday afternoon. Goaltender Melissa Haber pitched her fourth shutout of the season as the Terriers rolled to their fifth straight win and advanced to their first-ever Hockey East Final.
OTHER LINKS: Brian McCloskey and Kelly Paton Audio (mp3) - Brian Durocher, Melissa Anderson and Melissa Haber Audio (mp3)
The Boston University defense kept the conference's top offense in check all game long, allowing only 17 shots on goal. The Terriers will meet fifth-seeded UConn in the Hockey East championship game on Sunday at Schneider Arena at 12:30 p.m.
After a scoreless opening period, senior Laurel Koller put BU in front with a rising wrister in the opening minute of the second frame.
After a glorious chance for UNH on the power play, Koller initiated the counter-attack and caught UNH goaltender Lindsay Minton off guard from the right circle. It was the Terriers' fourth shorthanded tally of the season and the fourth shorthanded goal surrendered by New Hampshire as well.
The scoreline held into the third period when the Terrier offense erupted to pad the lead. Freshman Britt Hergesheimer deflected home a shot by sophomore Jenelle Kohanchuk at 13:44 to double the advantage. Senior Melissa Anderson delivered a third goal at 16:11 with a brilliant individual effort. Taking the puck wide around a UNH defender, Anderson cut to the net and made a nifty deke around Minton for her 20th goal of the season. Anderson wasn't finished as she added her 21st at 19:28 with a shorthanded, empty-net goal to cap off the scoring.
The Terriers are unbeaten in their last nine games, tied for the longest streak in the nation, and will be looking to lock up their first Hockey East title on Sunday.
---
Women's Hockey East Semifinals (March 6, 2010)
Boston University Post-Game Press Conference Transcript
Head Coach Brian Durocher
Opening thoughts:
"Yeah I mean everyone's going to pick up the newspaper tomorrow and see 4-0, and more often that not this was a game of inches, early in the game there were some lose pucks kicking around the net, Melissa Haber made some fantastic saves and we had a little bit of good fortune our way and we just kind of built on it and continued to improve. We killed some penalties, late in the 2nd and then in the 3rd we finally found a way to get one in, if it was off of a stick, off of an arm or even off a shoulder pad and got in the net and closed the deal with a couple of late goals. So don't let anyone be fooled by a four nothing game this was a good game, that's a fantastic hockey team New Hampshire has it's a great season they had but we had a little better fortune today."
On the major penalty assessed to UNH's Kelly Cahill
"We didn't capitalize on it, obviously they lost a hockey player. It was one of those situations where there was a hit from behind, it was a real good call there's been days when that might have been a boarding, a roughing so there's a fine line but that always a tricky call but UNH did a great job killing that penalty off, and it was still anyone's game until late in the 3rd period. It's a little bit unfortunate for the player that was serving the penalty."
Last time you won the game in spite of the fact you were outshot 35-9, what changed this time because you had the shot advantage this time?
"We just didn't seem to do a lot of physical things well down there, we didn't pass well we didn't catch pucks we got a little tight and UNH played a real good hockey game on that big rink up there. But I think today after the fist ten minutes we loosened up and started to make good passes and believe we could do things. I don't think it was physical it all during the game it was much more mental where we were much not so sure of ourselves but as our confidence grew we played a better hockey game."
What do you expect out of UConn tomorrow?
"UConn to me is as disciplined a team you will play anywhere in college hockey. They are well coached they don't throw a lot of trickery at you. As a team, they are a strong team and that's not because someone 5'9 or 5'0 that's because they are just strong kids in their skates. They don't try to out fancy it, they defend really hard back in their end, they almost overplay the defensive end in the zone, so you can get shots of the wing but to get there and get to a lost puck is really hard. Probably like Melissa Haber who's had her best year. I think Garcia has had her best year so we are going to have to find a way to get a deflection, a bounce against a team we have been 0-2-1 against this year. I'm hoping the stars line up for maybe a second day this weekend."
On Laurel, How fitting was it that she got the winning goal and into your first Hockey East Championship game?
"Fantastic, terribly exciting for Laurel, because she's one of these people that has worked extremely hard to build her endurance her conditioning, she went an entire season without scoring a goal. And yet she was a very intricate part of our team, a fantastic two-way player, she's picked up a new role this year killing penalty, it was really fantastic for her to be rewarded because her and Holly Lorms didn't have a boat load of points the first 20 games. Holly is obviously gone now but the two of them were fantastic parts of this team as the year went on, and we're not taking people out by lopsided scores very often. We have to play the better part of 60 and 65 minutes and Laurel is a big part of it, I credit her for how hard she's worked conditioning wise, stamina wise if there is one thing people will always remember its that she can shoot the puck well."
In the first period both teams seemed to be off to a sluggish start?
"We were a bit tentative and didn't let some of our ability step out and maybe for UNH there was just a shade of rust for them they had 2 weeks off and that's always a bit tricky. But again which I eluded to before, I think the good fortune lined up for us when it was 0-0 and then 1-0 which took us through forty minutes of hockey, a puck maybe didn't bounce, I think Julie Allen went in once and I remember Kelly Paton going in once but Haber made the save or it just squirted wide or it hit a post. Credit to Haber and the kids fighting by the net because those were the goals we gave up early in the year when we might have been lackadaisical in front of our cage, on both ends. But now it seems there is a strong mindset and work ethic that's getting it done."
Senior goaltender Melissa Haber
UNH had not been shut out all season leading up to today what does it mean to you to reverse that trend?
"I think the biggest thing for me today was just the team winning, shutout wasn't going through my mind at all, especially in a big game like this. I didn't know that, so that feels good, but my team was there for me, my team was there for me, our defense was blocking shots long bodies, our whole team played really well and it was a team effort."
Senior Forward Melissa Anderson
What was the pace of the game?
"They came out really hard and were down our backs the whole time and early in the second there Laurel put that puck in the net and we gained the momentum back. But it kept shifting both ways, so I thought it was just equal overall and it was a good game, fun to play in."
Can you describe your two goals?
"The first one Lauren she just saw me coming and passed it over, I was all the way over on the right and so I thought might as well try and take it all the way to the left, luckily she didn't try to poke check me, that was exciting. And then the second one, I was actually looking for her, its always fun to get your linemates in on it and on the score sheet."
---
Women's Hockey East Semifinals (March 6, 2010)
New Hampshire Post-Game Press Conference Transcript
Head Coach Brian McCloskey
Opening Statement
"It didn't do anything for our program, but its very nice to see two new teams in the championship game, well deserved and indicative of the season. We didn't play well enough to win today so that's the bottom line."
Did you ever feel that luck just wasn't in your favor?
"I think one of the key moments in the game was I think a minute and a half into the third period I think Michaela hit the cross bar, I don't know how many goal posts we can hit in one day without having one go in. I guess we just got kind of unlucky today, and they played hard and got the job done and got the win."
Can you comment about the two top seeds being knocked out, just like what the league has been like this year?
"It's exactly like what said, of course when you are one of those seeds your not looking to brag about parity but its there, and today's game was just indicative of the season, the team that could get out and take advantage of their opportunities. Their goaltender played well, maybe she got a couple breaks for sure, but BU fed off that. Both teams spent a large part of the game, up until when it was one nothing after two kinda feeling each other out, waiting for their chances, and we surged we did some good things in spots but losing Kelly Cahill was a huge loss, again we are already without Birchard, and we're not deep enough to handle that and on top of it to not catch any bounces. It wasn't a fluke though, BU played well, it was well deserved."
What is Courtney's status, any chance she might be available for the regional next week?
"Doubtful, anything's possible but no team is a one player team but Courtney is just like losing Paton, players of that magnitude are just difficult to replace or cover for and the kids that have filled in have done very well for us. Kelly Cahill I feel bad for her she was just to aggressive, and she certainly didn't mean to check someone from behind but that was just, she was our anchor, and has been a versatile player for us all year, very quick and doing enough up front so that if we weren't scoring with our big line, you know. We had a few bright spots. I thought were didn't play as well as I thought we certainly can, I thought Brittany Skudder was one of our best players today and she's only a freshman so we'll have to watch tomorrow's championship game and it will be exciting to crown a new champion after eight years, its great for the league."
Senior Forward Kelly Paton
There were substantially fewer shots on both sides for what these teams usually get, can you comment on defense on both ends?
"I think that both teams were looking to do it and take advantage of their three on twos, two on ones, and I think it was a credit to defense on both teams to limit the amount of shots were we getting, but I think we were looking to look for the pretty play and not just throwing it on net, and that could credit to the low number of shots today."
Do you feel like your team played well?
"Yeah I think we battled hard and I don't think we gave up at any point in the game, we came out in the third being optimistic knowing we were only down one goal, and they happened to get a couple goals on us in the third and I think that kind of put the game away for them. But we fought hard until the end, we're not embarrassed of ashamed or what we put out today, we just we not the winning team."
PHOTO GALLERY