Saturday, October 31, 2009
BOSTON UNIVERSITY UPENDS PROVIDENCE, 3-1
Melissa Haber makes 24 saves for Terriers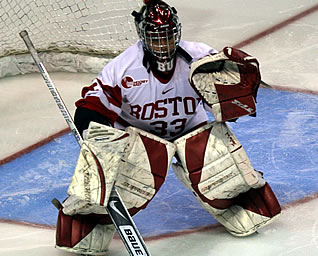 Melissa Haber made 24 saves for the Terriers
PROVIDENCE, R.I. - Two third period goals for No. 10 Boston University (3-1-4, 1-0-0 WHEA) led the way as Providence (3-4-2, 2-1-0 WHEA) fell at home, 3-1. Sophomore Genevieve Lacasse (Scarborough, Ontario) made 22 saves in net and classmate Ashley Cottrell (Sterling Heights, Mich.) put home a power-play goal for the Friars.
The two teams were tied heading into the third, but BU's leading scorer, Jenelle Kohanchuk, scored two goals, one an empty-net strike, in the final 20 minutes to finish off the game.
Boston University opened the scoring at 2:27 of the second period after Lacasse lost her stick in a scramble in front of the net. BU's Holly Lorms fired a shot towards the PC cage. Her attempt was blocked by a PC defender but the rebound fell to Britt Hergesheimer who put home the game's opening goal.
The Friars evened the score at 18:16 with a power-play goal from Cottrell. Cottrell picked up the puck behind the PC cage and raced up the right boards. After beating two defenders in the neutral zone, she slid the puck under the pads of the BU goaltender for her sixth goal of the season. Sophomore Lauren Covell (Akron, Ohio) and Lacasse earned assists on the play.
The two teams went into the locker room tied at one with Providence holding a slight edge in shots, 19-16.
Kohanchuk netted her first of the night at 12:33 off a pass from Jillian Kirchner behind the net. She would close out the game with her empty-net goal with only three seconds remaining.
Providence will travel to Storrs, Conn. on Sunday for a Hockey East contest with the Huskies. The game will take place at Mark Freitas Ice Forum beginning at 4:00 p.m.