Saturday, November 28, 2009
BOSTON UNIVERSITY UPENDS PRINCETON, 3-2
Sarah Appleton posts goal and assist for Terriers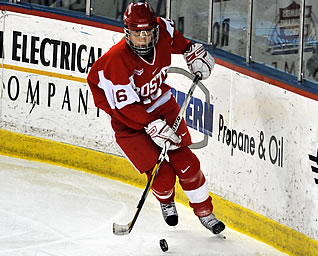 Sarah Appleton had a goal and an assist for the Terriers
PRINCETON, N.J. - The No. 8 Boston University women's ice hockey team bounced back from a loss on Friday afternoon, downing Princeton 3-2 on Saturday afternoon at Hobey Baker Rink in Princeton. The win pushes the Terriers to 7-5-6 on the year while Princeton slips to 7-4-1 overall.
Tied at 2-2 late in the third period, BU fended off two Princeton power-play opportunities, including nearly a minute of a 5-on-3 advantage, and struck on a counter attack to take a late 3-2 lead. Jenelle Kohanchuk ripped a shot on Princeton goalie Cassie Seguin and Lauren Cherewyk blasted home the rebound to give BU the lead. BU netminder Melissa Haber blocked two shots in the closing minutes after Princeton had pulled its goalie, to seal the one-goal victory.
Haber recorded 31 saves in her seventh win of the season while Seguin stopped 24 shots for the Tigers in the loss. The BU-Princeton series stays at .500 as both teams entered the weekend series with a win and a loss.
A slow first period picked up in the final minutes as a goal by either team put the score at 1-1 at the first break. Melissa Anderson started the game's scoring, potting her fifth goal of the year off a feed from Sarah Appleton at the 18:41 mark. A cross-checking penalty on BU proved costly with under a minute left in the first, as Heather Landry converted assists from Paula Romanchuk and Sasha Sherry with 26 seconds left to knot the score after one.
Appleton took the scoring into her own hands early in the second, putting the guests ahead just 1:37 in, on an unassisted effort. Haber stopped all 11 shots she faced in the second period to keep the Terriers in front, 2-1, at the second intermission.
Princeton wasted little time leveling the score early in the third period, potting its second goal of the game just 2:12 in. Julie Flynn netted her first goal of the season off an assist from Melanie Wallace, to square the game at two-apiece.
The Terriers wrap up their lengthy road stretch on Friday, Dec. 4 in Storrs, Conn., as they take on the UConn Huskies in a 7 p.m. game.