Sunday, September 27, 2009
SIX DIFFERENT SCORERS LEAD TERRIERS TO 7-1 EXHIBITION WIN
Lauren Cherewyk scores final two BU goals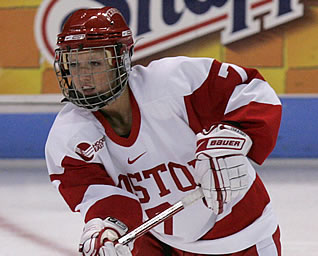 Lauren Cherewyk scored two goals for the Terriers
BOSTON - Six different players netted goals and Boston University outshot its opponent, 51-7, as the Terriers cruised to a 7-1 win in the season-opening exhibition matchup against the Durham Jr. Lightning on Sunday. The win marks the fourth straight year that the Terriers have started their season with an exhibition win over a Canadian opponent.
Junior Lauren Cherewyk netted the final two goals of the afternoon for a two-point game, while senior Melissa Anderson and freshman Jill Cardella each had two assists in the win. Senior Jonnie Bloemers and juniors Jillian Kirchner and Holly Lorms all recorded a goal and an assist on the afternoon.
Kirchner got the ball rolling for the Terriers, controlling a pass from classmate Lorms in front of the net and beating goalie Victoria Powers for a 1-0 advantage just 3:40 into the game. Despite firing 17 shots on target in the opening stanza, the period ended with the score 1-0 in BU's favor.
Durham responded early in the second stanza as Candace Robbescheuten fed Gillian Morgan from center ice, and Morgan beat senior Ashley Leichliter for the equalizer at 17:11. Lorms put the Terriers in front for good just over four minutes later, putting home a Kirchner pass to put the hosts up 2-1 at the end of two periods.
BU scored early and often in the final period, outshooting the Lightning 24-1 and netting five goals to pull away with the win. Senior Laurel Koller notched a power-play goal off of a Cardella feed just 1:49 into the period, and Bloemers scored on a man-up advantage just three minutes later with Anderson and freshman Cristina Wiley getting credit for the assists. Sophomore Carly Warren converted passes from Bloemers and senior captain Sarah Appleton for BU's fifth goal at 7:01, and Cherewyk put home the final two goals for the Terriers, the second one coming on the seventh power-play of the game for BU. Cardella and Anderson assisted on the final two goals, giving each of them two helpers on the game.
Senior goalie Melissa Haber stopped all five shots she faced in the first period, freshman Alissa Fromkin posted one save, playing the entire third period and Leichliter spent the entire second stanza in net. For the Lightning, Powers played the first 30 minutes in net before Chantal Bicket took over net minding duties for the remainder of the contest.
The Terriers open the regular season at home on Friday, Oct. 2 as they welcome Ohio State to Walter Brown Arena. Game time is slated for 7 p.m.