BOSTON COLLEGE TIES SYRACUSE, 3-3
Thunstrom and Szlosek grab two points apiece, Boyles stops 30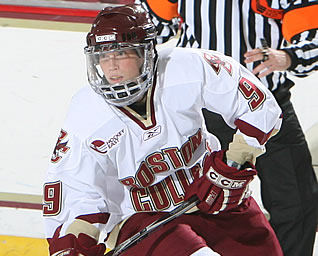 Allie Thunstrom had two goals for the Eagles
CHESTNUT HILL, Mass. - The Boston College women's ice hockey team skated to a 3-3 tie with Syracuse at Kelley Rink on Friday, Oct.9 at 2:00 p.m.
The Eagles are now 0-1-2 on the year while Syracuse moves to 0-2-1.
Both goalies played well in the first period, with neither surrendering a goal until late in the opening frame. BC senior Allie Thunstrom put the Eagles on the board with her first goal of the year with less than a minute remaining in the period.
The Eagles continued to put pressure on the Orange in the second period, with sophomore Allison Szlosek grabbing her first goal of the year five minutes into the second period. Thunstrom followed Szlosek's tally with her second of the night and BC found themselves up 3-0.
Syracuse made its way back into the picture on goals from Stefanie Marty and Holly Carrie-Mattimo. Isabel Menard's goal with less than five minutes remaining in the game knotted the score at three and ended up sealing the tie for the Orange.
Boston College freshman goalie Corinne Boyles made her second consecutive start in net, stopping 30 of 33 shots she faced on the day.
Junior Laura Hart also notched her first career point for the Eagles, tallying an assist on Szlosek's goal. Boyles also managed to make an assist from the crease, as she had a hand in Thunstrom's first score.
The Eagles will return to Kelley Rink tomorrow, Oct. 10, where they take on Colgate at 5:00 p.m.