BOSTON COLLEGE FALLS TO ST. LAWRENCE, 4-0
Sophomore Kiera Kingston records 40 saves in the loss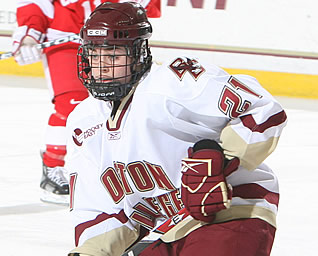 BC sophomore forward Andrea Green
CHESTNUT HILL, Mass. - The Boston College women's hockey team lost to St. Lawrence 4-0 on Friday afternoon at Kelley Rink in Chestnut Hill, Mass.
The Eagles drop to 5-9-9 on the season while the Saints improve to 10-7-6.
After Thursday night's thrilling comeback, the Eagles hopes were set on keeping up the momentum that they had managed to grasp late in the third period one day earlier. The visitors, however, attacked BC with firepower of their own and tallied the first goal of the game at 15:45 of the first period.
Neither team would find the net in the second period, as BC held St. Lawrence to only eight shots with no penalties committed in the frame. The matchup tilted more to the Saints in the third period as they recorded goals at the 7:32 and 14:45 mark. A late empty net score ended the game at 4-0 in favor of the Saints.
Sophomore goalie Kiera Kingston provided strong support for the Eagles in net, stopping 40 of the 44 shots she faced on the day. The Saints outshot the Eagles 44-16 in the contest.
The Eagles will travel to play arch-rival Boston University on Tuesday, January 19 at 7:00 p.m.