Saturday, October 10, 2009
BOSTON COLLEGE DEFEATS COLGATE, 5-3
Danielle Welch notches the game winner late in the third period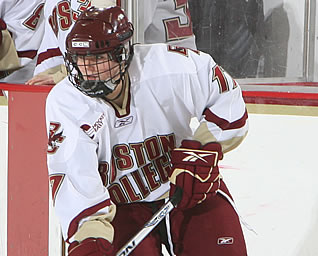 Danielle Welch picked up the game-winner for BC
CHESTNUT HILL, Mass. - The Boston College women's ice hockey finished off a great comeback on Saturday by defeating Colgate, 5-3 in Chestnut Hill.
The Eagles are now 1-1-2 on the year while Colgate falls to 0-2-0.
Colgate managed to grab a 3-1 lead late in the second period, with the Eagles' only tally coming from freshman Kristina Brown, who was able to one-time a quick, behind the net pass from Danielle Welch past the Raiders keeper early in the second.
The third period started off with a bang as senior Shannon Webster pulled the Eagles to within a goal early in the frame. The score would remain as such for the majority of the third period, but BC was not about to give in just yet. With the Eagles up a skater late in the period, freshman Caitlin Walsh received a pass from Ashley Motherwell and Allison Szlosek and put home the tying goal.
Just over two minutes later, Danielle Welch would put Boston College up for good with a low wrist shot that beat the Raiders keeper on her stick side and gave the Eagles a 4-3 lead. Allie Thunstrom would ice the game with an empty net tally with only thirty seconds remaining in the game.
Freshman goalie Corinne Boyles added 26 saves to the stats sheet, as the Eagles managed to out shoot the Raiders, 34-29.
The Eagles return to action on Tuesday, Oct. 13, when they will face-off against Northeastern at 7:00 p.m. in Chestnut Hill for their Hockey East opener.