Wednesday, November 18, 2009
HABER, TERRIERS SHUT OUT EAGLES, 4-0
Melissa Haber earns shutout with 37 saves for BU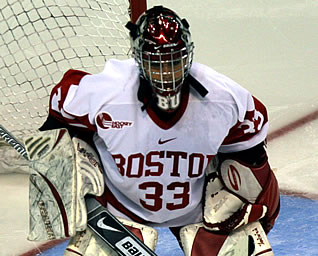 Melissa Haber made 37 saves for Boston University
CHESTNUT HILL, Mass. - The Boston College women's ice hockey team dropped a 4-0 decision to Boston University on Wednesday night at Kelley Rink in Chestnut Hill, Mass.
The Eagles are now 4-4-5 on the year while the Terriers move to 6-4-5.
BC had one of its best games of the year in terms of shots on goal. The Eagles were able to fire 13 shots at the BU keeper in the first period and 19 in the second to keep the Terriers on their toes. Boston College freshman Caitlin Walsh led her team with six shots on net while sophomore Alison Szlosek had five.
BU opened up the scoring midway through the first period with a goal from Lauren Cherewyk, followed by another Terrier score a few minutes later. Boston University would add two more goals late in the second frame off scores from Carly Warren and Sarah Appleton.
BC sophomore goalie Kiera Kingston stopped 15 shots she faced over the first two periods of the game and freshman Corinne Boyles stepped in to turn aside all four of the Terriers shots in the third. The Eagles were able to outshoot Boston University 37-23 over the course of the night.
The Eagles will travel to Vermont to play the Catamounts this Friday, November 20 at 7:00 p.m.