Saturday, November 8, 2008
VERMONT SHUT OUT BY WAYNE STATE, 7-0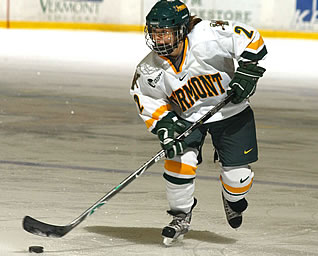 Molly Morrison
BURLINGTON, Vt. -- Melissa Boal scored two goals and set up two others as Wayne State rolled past Vermont, 7-0, in college women's hockey Saturday afternoon at Gutterson Fieldhouse. Along with a 5-3 win Friday, the Warriors (5-2-1) completed a weekend sweep of the Catamounts.
"It's hard to find anything positive from this afternoon's game and we can't get any lower than today," said Vermont coach Tim Bothwell. "The bright point of this weekend was on Friday night when we were energized and effective, and controlled the play five-on-five. That is what we need to remember from this weekend and take it with us to our next game at Quinnipiac Friday."
After outshooting Wayne State, 33-30, on Friday night, Vermont could muster only seven shots on goal Saturday and was held off the scoreboard for the first time in 10 games this season.
The Warriors scored early and often starting with a power play goal by Sam Poyton 3:19 into the contest. Micheline Frappier made it 2-0 at the first intermission. Wayne State widened its league in the second on goals by Natalie Payne and Lindsay DiPietro before Boal scored twice in the third.
Wayne State went 3-for-5 on the power play and killed all seven UVM attempts. Boal's first goal in the third period was a short-handed tally.
Kristen Olychuck (Kelowna, B.C.) made 16 saves in goal for the Catamounts who fall to 2-8-0.
A photo gallery of today's game including pictures from the postgame Catamount Kid's Conference will be available soon on www.UVMathletics.com.
Vermont is at Quinnipiac Friday at 7 p.m. to begin a stretch of five games away from home. UVM's next home game is against Hockey East rival Boston University on Friday, December 5 at 3 p.m at Gutterson Fieldhouse. Admission is free for all UVM students (with a valid ID) and Rally's Round Up members for all regular season home games. For ticket information please call 1-866-4-CAT-TIX or log on to www.UVMathletics.com.