Saturday, October 11, 2008
VERMONT SWEEPS UNION WITH 3-1 VICTORY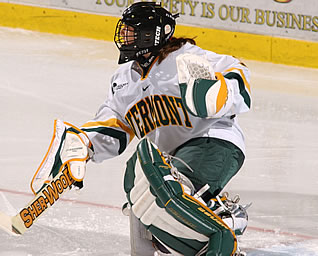 Ashley Walenty and Caitlin Whitlock split the goaltending duties
SCHENECTADY, N.Y. -- Freshman linemates Chelsea Rapin (Walled Lake, Mich.) and Erin Barley- Maloney (Raleigh, N.C.) each had a goal and an assist, and senior goalie Ashley Walenty (Lake Placid, N.Y.) recorded her first career victory as Vermont topped Union, 3-1, in women's college hockey Saturday afternoon at Messa Rink. UVM (2- 0-0) scored all three of its goals in the second period to complete a weekend sweep in its first two games of the 2008-09 campaign.
Junior Melanie Greene (Queensbury, N.Y.) also added a goal and an assist, scoring the eventual game-winner midway through the contest. Walenty stopped all 12 shots she faced in just under 33 minutes of action before giving way to freshman goalie Caitlin Whitlock (Westfield, N.J.). For the second straight game against the Dutchwomen, Vermont had a wide margin of shots on goal with a 33-19 advantage.
"It's great to pick up two wins this weekend especially on the road although our overall effort today was not great," said Vermont head coach Tim Bothwell. "After playing well the first night, we can't think it is easy to beat the same team the next day. We have to be much better than we were today in our first league games next weekend against UConn and Providence."
Combined with its sweep at Maine to close out last season, Vermont has now won four straight games, all of the road, after dropping a NCAA-record 39 consecutive road contests from 2005 to 2008.
After a scoreless first period, Rapin scored her first career goal at 2:34 of the second on assists from Greene and classmate Kyleigh Palmer (Winnipeg, Manitoba). Greene made it 2-0, with assists to Shannon Bellefeuille (Kanata, Ontario) and Barley-Maloney at 12:34. Barley-Maloney scored her second goal in as many days with 46 seconds left in the stanza on assists from her classmates, Rapin and Palmer.
Union closed out the scoring with 3:07 left in the game on Emilie Arseneault's goal, assisted by Jackie Koetteritz.
Whitlock finished with six saves in her Catamount debut playing the last 27:23 of the match. Lundy Day made 30 stops for the Dutchwomen who fall to 0-4-0.
The goal by Barley-Maloney came on the power play as Vermont converted one of its six extra skater opportunities while killing all six of Union's attempts. Barley-Maloney is off to an excellent start to her collegiate career with two goals and two assists in her first two games.
The Catamounts return home to open a four-game homestand hosting Connecticut on Saturday, October 18 at 2:00pm at Gutterson Fieldhouse in UVM's Hockey East opener. Vermont also hosts Providence the following day at 3:00pm. Admission is free to all UVM students (with a valid ID) and Rally's Round Up members for all regular season home games. For ticket information please call 1-866-4- CAT-TIX or log on to www.UVMathletics.com.