Saturday, February 7, 2009
NEW HAMPSHIRE UPENDS VERMONT, 3-1
Jenn Wakefield scores twice for Wildcats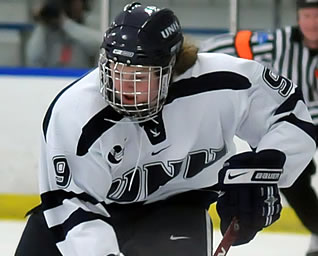 Jenn Wakefield scored two goals for the Wildcats
BURLINGTON, Vt. -- Two goals by Jenn Wakefield allowed fifth-ranked New Hampshire to hold off Vermont, 3-1, in a women's Hockey East contest Saturday afternoon at Gutterson Fieldhouse. Freshman goalie Caitlin Whitlock (Westfield, N.J.) made 28 saves to lead a scrappy Catamounts effort in holding the perennial national power Wildcats at bay for most of the contest.
Vermont (5-23-1, 3-13-0 Hockey East) has yet to defeat UNH (16-5-5, 11-2-3) in 13 tries and Saturday was its best effort against the three-time defending Hockey East Champions, who have now won seven straight this season to climb back into first place in the league standings.
"Today we had a great physical effort from start to finish and it's unfortunate we didn't get something to show for it in our drive to make the playoffs," said Vermont coach Tim Bothwell. "Caitlin was outstanding in the nets and we did a good job all day getting our sticks in their shooting lanes, something that's very important against a skilled team like UNH. We have another big challenge tomorrow afternoon and we need to keep scratching and clawing like we did today."
Vermont trailed by a goal heading into the final period and had several opportunities for the equalizer before Wakefield's second of the game, a shorthanded goal with 4:39 to play, stopped any bid for an upset. Wildcats goalie Kayley Herman came up big with solid saves on Molly Morrison (South Burlington, Vt.) at 11:20 and on Peggy Wakeham (Bay Roberts, Newfoundland), who cut in from the blueline and had a point blank drive in the slot. UNH finished with a 31-17 advantage in shots for the game but had only an 11-9 edge in the third stanza.
At the start of the contest, Sarah Smiddy (Grand Rapids, Mich.) had a couple of good chances turned aside Herman and the UVM defense led by Whitlock killed an early five-minute major penalty. But the Wildcats broke through as Wakefield took advantage of a UVM turnover with her first of the game at 13:00.
UNH's Mikaela Long made it 2-0 at 12:34 in the second before UVM cut the deficit in half late in the frame. After Whitlock made a nice save on Kelly Paton at the goalmouth, two quick breakout passes by Erin Barley-Maloney (Raleigh, N.C.) and Smiddy sent Celeste Doucet (Memramcook, New Brunswick) behind the UNH defense. Doucet tucked it behind Herman for her fourth goal of the season with only 40 seconds before the second intermission. Barley-Maloney's assist was her team-high 11th of the season to extend her UVM single-season freshman record.
Whitlock was outstanding against one of the top offensive teams in the nation in just her second career start and her first against a Hockey East opponent. At the other end, Herman finished with 17 saves, nine in the final 20 minutes and Wakefield now has 25 goals on the season. Neither team picked up a power play goal with UNH going 0-for-4 and UVM was 0-for-2.
Vermont hosts New Hampshire again Sunday at 2 p.m. at Gutterson Fieldhouse. Sunday's game is part of the third annual Hockey East Skating Strides Against Breast Cancer event. All proceeds from special raffles and merchandise sales as well as all gate receipts will benefit the Vermont Cancer Center.
Admission is free for all UVM students (with a valid ID) and Rally's Round Up members for all regular season home games. For ticket information please call 1-866-4-CAT-TIX or log on to www.UVMathletics.com.