PROVIDENCE DEFEATS VERMONT, 4-2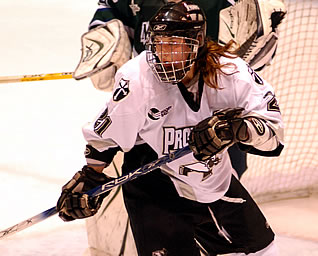 Alyse Ruff scored the game-winning goal for the Friars
BURLINGTON, Vt. -- Chelsea Furlani (Colchester, Vt.) scored twice but Providence used a four-goal second period to top Vermont, 4-2, in women's Hockey East action Sunday at Gutterson Fieldhouse. UVM evens its overall record at 2-2-0 and falls to 0-2-0 in league play. The win was the first for the Friars (2-4-0, 1-1-0) in Hockey East.
"Today was a disappointing loss against a good team," said Vermont head coach Tim Bothwell. "Our effort level was good for most of the game but still not consistent throughout all 60 minutes. We did a lot of things well today, particularly on the power play. Once we put everything together for an entire game we will have a chance to be dangerous."
All six goals in the contest came in the middle period and four different players found the net for the Friars. PC goaltender Geneviere Lacasse made the lead stand with 25 saves, 18 in the final 40 minutes.
PC's Laura Veharanta and Jackie Duncan opened the scoring with goals two minutes apart in the second before Furlani answered on the power play at 9:19, with assists to Peggy Wakeham (Bay Roberts, Newfoundland) and Brittany Nelson (Shelburne, Vt.). Just 14 seconds later Alyse Ruff gave Providence a two-goal advantage.
Furlani added her second of the game, another power play goal, at 18:19 rapping home a rebound of a shot by Shannon Bellefeuille (Kanata, Ontario). Nelson also picked up her second assist of the game on the play. But with just 11 seconds left in the period, Arianna Rigano scored for the Friars to make it 4-2.
Lacasse was strong in the final period to hold off the Catamounts. She made solid saves on Chelsea Rapin (Walled Lake, Mich.) on a wraparound bid midway through the stanza and on Wakeham, on a shot off a faceoff, late in the game.
Vermont outshot the Friars, 27-23, and went 2-for-12 on the power play. One of PC's goals came with an extra skater in seven opportunities. Cats goalie Kristen Olychuck (Kelowna, B.C.) finished with 19 saves.
Next weekend UVM hosts ECAC rival Cornell to continue its four-game homestand at Gutterson Fieldhouse. The Catamounts and Big Red face off Friday at 7 p.m. and Saturday at 4 p.m. Admission is free to all UVM students (with a valid ID) and Rally's Round Up members for all regular season home games. For ticket information please call 1-866-4-CAT-TIX or log on to www.UVMathletics.com.