NORTHEASTERN TOPPED BY YALE, 2-0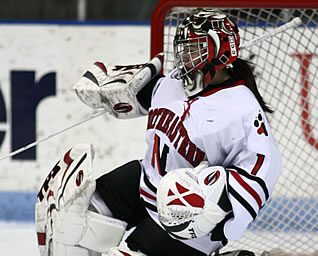 Leah Sulyma made 30 saves for the Huskies
BOSTON, Mass. - Northeastern fell to 7-7-2 Friday night after a 2-0 loss to the Yale Bulldogs at Matthews Arena.
Leah Sulyma was Northeastern's biggest standout on the night, making 30 saves. In the first period, she snuffed out a golden scoring opportunity when she came up with save on a Yale attacker who fired point-blank from close range. Sulyma hustled over, and made the save to keep the score knotted at 0. Each team had a number of golden scoring opportunities in the first half. with 7:30 left in the period, Yale goalie Jackie Snickeris robbed Alyssa Wohlfeiler of a sure goal with a glove save on another close-range shot. Annie Hogan also had a great look at goal late in the period, but her effort went wanting.
The second period saw Yale break the deadlock on a goal by Aleca Hughes midway through the frame. A quick flip of the puck from Heather Grant at center ice sprung Hughes behind the Northeastern defense, and she was able to beat Sulyma on the left side before the quickly-closing Huskies defense could shut her down.
Yale turned up the offensive pressure in the third period, but Northeastern was able to stay within striking distance thanks to some strong play from Sulyma and the penalty kill unit. At the 12-minute mark Autumn Prouty hustled back to breakup a two-on-one break, blocking what would have been an open shot at net. Yale had a golden opportunity to extend their lead when a Brenna Frost penalty gave the Bulldogs just their third power play of the game, but Northeastern's league-leading penalty kill unit snuffed out yet another man advantage, and kept the Huskies within a goal.
Late in the period, Yale's Crysti Howser won several key faceoffs to allow the Bulldogs to keep posession in Northeastern's zone for several minutes. The managed a handful of shots, but Sulyma made key saves to keep Northeastern in the game, at one point stuffing to quick point-blank efforts from Helen Resor and Becky Mantell. Howser sent a shot ringing off the post at the five-minute mark, but the Huskies eventually cleared the zone and escaped the Bulldogs' offensive onslaught.
With time running out, Northeastern pulled Sulyma for an extra attacker, but an untimely turnover gave Howser a clean look at an empty net, which she converted to seal the win for the Bulldogs.
Northeastern drops to .500 for the first time this season, but will look to get back on the winning side of things Saturday, Jan. 3 when they travel to Providence to take on the Brown Bears.