NORTHEASTERN HOLDS OFF RENSSELAER, 3-2
Sophomore Alyssa Wohlfeiler posts two goals and assist for Huskies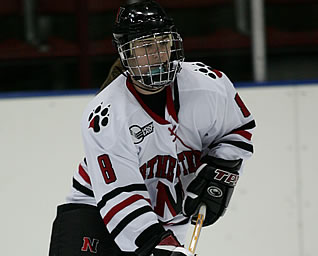 Alyssa Wohlfeiler had two goals and an assist for the Huskies
TROY, N.Y. - Sophomore forward Alyssa Wohlfeiler scored twice and added an assist to lead Northeastern to a season-opening 3-2 victory over Rensselaer on Friday evening at Houston Field House.
Northeastern got on the board early, thanks to crisp execution on the power play. Two RPI penalties in the first period led to two NU power plays, which the Engineers would pay for. Sophomore forward Alyssa Wohlfeiler ended the first power-play with a goal at 2:42, and Kristi Kehoe scored on NU's next power play, with the goal coming at 13:38.
Neither team could find the net playing five-on-five, as all the game's scoring came on the man-advantage. Wohlfeiler struck again early in the second period, and the Huskies would not relinquish the lead.
Freshman goalie Florence Schelling played the entire game in net, and made 38 saves on 40 shots, earning the victory for Northeastern despite the fact that RPI outshot the Huskies 40-17.
The win is the first for new head coach Dave Flint. The Huskies continue their New York road trip with a game against the Union Dutchwomen Saturday at 4 p.m.