Saturday, February 21, 2009
CATAMOUNTS EARN 1-0 WIN AGAINST BLACK BEARS
Peggy Wakeham scores lone goal of the game for Vermont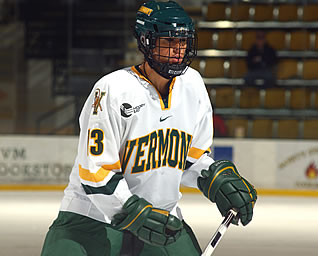 Teddy Fortin assisted on the Vermont tally
BURLINGTON, Vt. -- A late third period power play goal by Peggy Wakeham (Bay Roberts, Newfoundland) lifted Vermont to a 1-0 win over Maine in a women's Hockey East contest Saturday afternoon at Gutterson Fieldhouse. Freshman goaltender Caitlin Whitlock (Westfield, N.J.) made 17 saves, eight in the third period, to record her first career shutout as the Catamounts (7-25-1, 5-15-0) won for the fifth time in league play, the most conference victories in the team's fourth year in Hockey East.
"This was an outstanding win for our team," said Vermont coach Tim Bothwell. "Give Maine credit, too. They played hard and checked hard, and had us on our heels at the start. I love the way we responded and at the end, how we found a way to get the job done.
"I'm very happy for Caitlin giving us good, solid goaltending from the start and especially at the finish. It was a very impressive way for a freshman goalie to end her first season."
Vermont peppered Maine goalie Genevieve Turgeon throughout the first two periods and outshot the Black Bears, 36-17, for the game. Wakeham's goal, on a two-skater advantage, was the only blemish and came with 2:35 remaining. Whitlock and the UVM defense held off a late barrage to hold on for the victory. The rookie goalie preserved the win and the shutout by robbing Vanessa Vani from point blank range with 41 seconds left to play.
Vermont had several great opportunities over the first two periods but could not light the lamp. The Cats twice from close range had Turgeon beat but hit the goal post. Celeste Doucet (Memramcook, New Brunswick) rattled one off the pipe with 4:30 left in the first and Kyleigh Palmer (Winnipeg, Manitoba) drew iron with 12 minutes to go in the third.
Wakeham's goal, on assists from Chelsea Furlani (Colchester, Vt.) and Teddy Fortin (Brunswick, Maine), came on UVM's second 5-on-3 advantage of the game. The Catamounts finished 1-for-6 with an extra skater while scoring a power play goal for the fourth straight contest. UVM also killed all six Black Bears attempts including three late in the third.
The goal was the sixth this season for Wakeham, a sophomore defenseman, who also has 21 points on the season to establish a new UVM single-season record for a blueliner. Her 14 power play points in league games ties for first in Hockey East and in all games, she ranks fourth in the conference in points by a defenseman.
Turgeon finished with 34 saves for Maine (5-23-4, 3-15-2).
The Catamounts wrap up the 2008-09 season hosting Maine on Senior Day, Sunday at 2 p.m. Seniors Jessica Murphy (Shoreview, Minn.), Danielle Ramirez (Huntington Beach, Calif.), Sarah Smiddy (Grand Rapids, Mich.) and Ashley Walenty (Lake Placid, N.Y.) will be honored prior to the finale. Admission is free for all UVM students (with a valid ID) and Rally's Round Up members for all regular season home games. For ticket information please call 1-866-4-CAT-TIX or log on to www.UVMathletics.com.