Friday, December 12, 2008
TURGEON, BLACK BEARS SHUT OUT UNION, 2-0
Genevieve Turgeon made 19 saves in the shutout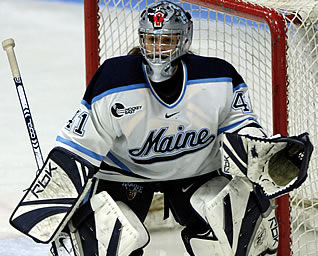 Genevieve Turgeon made 19 saves for the Black Bears
Orono, Maine - The University of Maine women's ice hockey team earned its fourth victory of the season with a 2-0 score over non-conference opponent Union. With the win, the Black Bears improve to 4-13-1 overall and remain 1-7-1 in Hockey East. The Dutchwomen slide to 2-16-1 on the season and stay at 0-8-0 in the ECAC. Maine was led by goaltender Genevieve Turgeon (Lac Beauport, Quebec) who earned her first shutout of the season while making 19 saves.
The two teams battled to a scoreless first period, but that changed quickly in the second. The Black Bears broke the tie with a score only 2:31 into the second period. Jenna Ouellette (Winnipeg, Manitoba) found herself trapped in the corner to Union goaltender Lundy Day's right. Ouellette slide the puck to Dawn Sullivan (Enfield, Nova Scotia) who was heavily defended while stationed on the right goal post. Sullivan found Amy Stech (Duluth, Minn.) gliding through the backside of the defense with a backhanded pass to give Stech a wide-open shot for her sixth goal of the season.
Maine scored again with only 11 seconds remaining in the second period in a play that caught the Dutchwomen completely by surprise. Myriam Croussette (Baie-Comeau, Quebec) began to reset the offense as she skated around the Black Bear net. As Croussette felt pressure from the press defense she dumped the puck high into the neutral zone along the boards where captain Vanessa Vani (St. Catharines, Ontario) picked it up with only one player to beat. Vani carried it into the offensive zone to the goalie's right and just as she approached the net, Vani faked the shot and brought the puck to Day's left. Day bite on the fake and Vani was able to tap the puck in as she fell for her fourth goal on the season. The 2-0 score held through the final period to give Maine the victory.
Turgeon's 19 saves earned her the seventh shutout of her career as she improves to 3-12-1, tieing Turgeon for third on the Black Bear's career shutout list. Day, a former Maine goaltender for two-seasons, made 29 saves and falls to 2-16-1.
The Black Bears will join the men's ice hockey team again on Saturday for a second double-header with Union. The puck will drop at 2 p.m. in the Alfond once more.